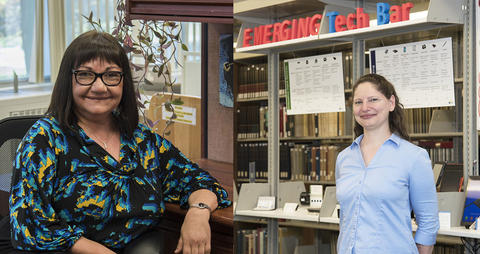 The NIST Research Library features both excellent basic library services and innovative resources that go far beyond traditional library offerings. This was in evidence at the 44th Annual NIST Awards Ceremony, where two members of the Research Library staff were honored.
Nune Atyan received the NIST Eugene Casson Crittenden Award for outstanding Interlibrary Loan  Customer Service in support of the research needs of NIST Gaithersburg staff. Interlibrary loan (ILL) is an extremely important library service that the Research Library provides to NIST scientists. Nune is responsible for fulfilling requests for books, journal articles, reports, and other research materials that are not held in the library's collection. She strives to exceed her customers' expectations by providing fast, high-quality service, often fulfilling requests within a few hours or even a few minutes. She took the initiative to implement a new procedure to expedite ILL book requests while at the same time reducing costs.  Her timely delivery of critical research documents significantly impacts NIST researchers' productivity.
Stacy Bruss received the Department of Commerce Bronze Medal for her outstanding commitment to excellence as a library lab liaison and, in particular, for creating the NIST Research Library Innovation Corner. The Innovation Corner is a unique venue that gives scientists an exciting opportunity to try the latest and most innovative technology to support their research. Stacy has exhibited creative and innovative approaches to responding to customers' needs. Additionally, she created effective web-based and live training for equipment use, safety, and an overview of the Corner's offerings for customers and her colleagues.