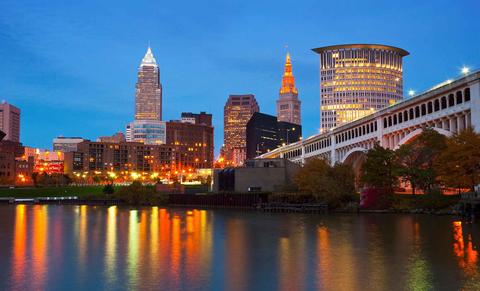 As part of the ongoing collaborative federal effort to strengthen the resilience of the nation's cities, towns and other inhabited areas, the Community Resilience Panel for Buildings and Infrastructure Systems has added a "built environment" portal to the popular U.S. Climate Resilience Toolkit provided by the National Oceanic and Atmospheric Administration (NOAA).
The Community Resilience Panel is an independent group of stakeholders and experts from the private and public sectors that currently has more than 350 members. It is co-sponsored by the National Institute of Standards and Technology (NIST) and four other federal agencies.
The new portal established by the Panel was highlighted in the Obama Administration's 2016 National Preparedness Report as one of the federal government's actions to address community vulnerabilities to disasters and make improvements in resilience nationwide. A community's resilience is its capacity to prepare for anticipated hazards, adapt to changing conditions, and withstand and recover rapidly from disruption.
The new portal offers users a comprehensive gateway to resilience resources about the built environment—manmade surroundings that enhance human activity, including homes, commercial buildings, green space and supporting infrastructure (such as water, electrical and gas networks).
"By utilizing an established and recognized platform like the U.S. Climate Resilience Toolkit, community leaders and resilience practitioners now have a 'one-stop shop' for all of their resource needs without having to navigate a myriad of individual federal government websites," said Jesse M. Keenan, a faculty member of Harvard University's Graduate School of Design and vice chairman of the Panel.
The resilience topics covered by the new portal are: buildings and structures, communications, community resilience, disaster planning, economics, energy, environment and natural resources, social equity, transportation, and water and wastewater. Each of these topics has its own site that provides datasets, case studies, measurement tools and other assets that help users understand their vulnerabilities and identify risks; define their social, economic and environmental capacities; and integrate resilience into working operations.
Among the resources offered is NIST's Community Resilience Planning Guide for Buildings and Infrastructure Systems, a six-step process that provides a practical and flexible approach to help communities improve their resilience by setting priorities and allocating resources appropriately.
In addition to NIST, federal co-sponsors of the Community Resilience Panel are NOAA, the U.S. Environmental Protection Agency (EPA), the Department of Housing and Urban Development (HUD)'s Office of Economic Resilience and two organizations within the Department of Homeland Security (DHS): the Federal Emergency Management Agency (FEMA) and the Office of Infrastructure Protection.