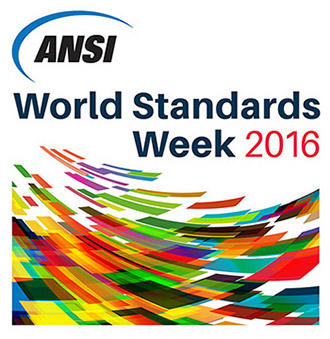 World Standards Week is an ANSI-hosted annual event designed to inspire open dialogue about developments and challenges related to standardization and conformity assessment, highlighted in multiple keynote speaker sessions and conferences. This year, World Standards Week is from October 24, 2016 to October 28, 2016.
The series of events brings together departmental and agency officials, industry leaders, consumer advocates, academics, and standardization executives from across the globe. Each year, WSW promotes open exchange among various types of standard-setting and conformity assessment/compliance organizations who are working in close partnership with government and industry in nearly every sector and product line.
One of the events during World Standards Week is World Standards Day. World Standards Day is co-chaired each year by the American National Standards Institute (ANSI) and the National Institute of Standards and Technology (NIST). This year's theme is "Standards Build Trust." Reliability and trust are fundamental components of any process, business, or service. Behind the scenes, standards and conformity assessment ensure this reliability and trust. In short, standards make everyday life work. Everything from tech gadgets and the products we rely on in our offices and homes, to services that fuel the global economy and ensure health and safety, relies upon standards and conformance to ensure safety, dependability, and interoperability. A product or service conforming to an international standard represents a trusted symbol of quality, safety, and compatibility. Most of all, standards—developed through a process that is balanced, open, and transparent—help engender trust among the people, businesses, and governments that have placed their confidence in the standardization process.
For more information, visit the ANSI World Standards Week 2016 Schedule of Events.