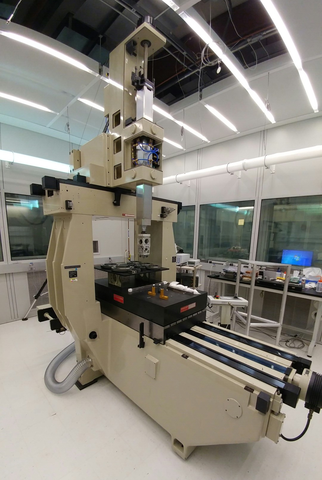 Until recently, if a company wanted the best measurements in the world for the physical dimensions of one of its dimensional standards, it had to book time on the NIST Physical Measurement Laboratory's (PML) Moore M48 coordinate measuring machine (CMM). Operating at NIST since 2000, this CMM – referred to as the "primary" – is an instrument the size of a small truck. Made of cast iron, it uses a touch probe to detect, and integrated laser interferometers to measure, the distances between points on an object in three dimensions with ten billionths of a meter sensitivity. 
Customers who rely on PML's calibrations with the "primary" Moore M48 include the military, academia, other government calibration and research labs, private industry calibration labs, discrete part manufacturers, and instrument manufacturers, both domestic and international. The primary's services are so popular that customers often have to wait several months for time to be available on the machine. As a result, the CMM is now working almost every day of the year, which leaves little to no time for upkeep or the development of new services.
"Sixteen years of running the machine 300-plus days a year continuously, you're going to see issues that need to be fixed," says project leader Eric Stanfield.*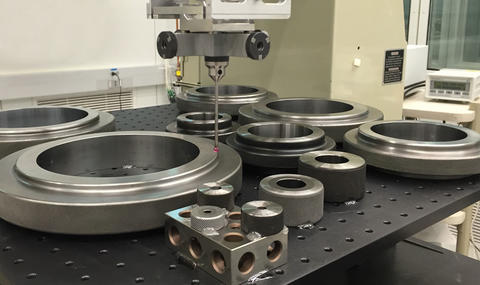 Now, after years of modification, development, and extensive testing, PML's Engineering Physics Division has commissioned a second Moore M48 CMM—which they've nicknamed "Bob" – to share the primary machine's calibration workload.** As of this summer, Bob was officially online and being used for calibration services, at least in one dimension, with accuracy nearly identical to the best-in-the-world measurements on the primary CMM.
A CMM Family
The primary Moore M48 and Bob are nearly identical in design because they are actually siblings, two of five CMMs made by the Moore Tool Company in the 1980s. Stanfield says these five machines are known for their simple mechanical design, rigidity, highly repeatable motion that is very nearly perfect (in comparison to commercially available CMMs), and long-term dimensional stability.
"Sometimes investing in new technology isn't the way to go," Stanfield says. "We know just about everything we need to know about these Moore machines."
Stanfield says that Bob's current focus is on 1D measurements, which means Bob can take about 100 measurement jobs off the primary CMM's hands each year, giving PML staff the time to take on more unusual service orders.*** Typical items that will be transferred to Bob include non-standard-size and material gauge blocks and similar length standards, step gauges, and plain ring and plug gauges.
"There are customer requests all the time for special, weird things that are one-off standards that a company needs measured," Stanfield says. "Sometimes we have to turn these down if the path forward on measuring them isn't clear, since we don't have time to evaluate the capability on the machine first."
Bob will also free up staff time to explore and develop industry needed measurement capabilities for micro-sized features and small holes, fiber optic ferrules (usually very small sleeves used to accurately position and join fiber optic cables), and micro-tomography artifacts for metrological x-ray computed tomography.
In the next two years, a third nearly identical Moore M48 machine will likely join the group. This third CMM – nicknamed "Ralph" after a former group leader – has an interferometry system that operates in vacuum. This system may help NIST staff increase the accuracy of 3D coordinate measurements beyond their current capabilities.
--Reported and written by Jennifer Lauren Lee
---
* The team that got Bob up and running included John Stoup, Wei Ren, and Roy Sundahl.
** Bob was named after Robert J. Hocken, who was a physicist and Division Chief at NIST in the early 1980s and a pioneer in the areas of error modeling, error mapping, and software correction of CMMs to make them more accurate. He was also key in acquiring the primary M48.
*** Specialty requests have included a recent measurement on a critical piece of the James Webb Space Telescope for NASA, as well as in-house jobs for a new NIST-developed neutron detector, the NIST-4 watt balance, and a new photonic pressure standard.
Any mention of commercial products within NIST web pages is for information only; it does not imply recommendation or endorsement by NIST.