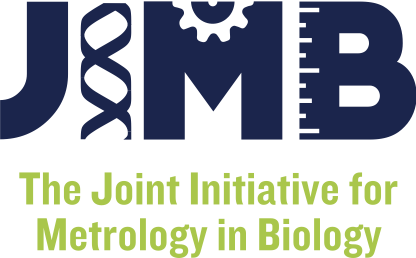 STANFORD, Calif.—The U.S. Commerce Department's National Institute of Standards and Technology (NIST) and Stanford University announced today that they are embarking on a long-term partnership to develop the measurement capabilities central to research, innovation and commercialization in a budding bio-economy of products and services in sectors ranging from health care to energy to electronics.
The new NIST-Stanford Joint Initiative for Metrology in Biology, or JIMB, brings together academia, industry and government to advance the knowledge and tools that will make up biotechnology's equivalent of the weights and measures that enabled modern manufacturing and materials engineering. To signify JIMB's focus on 21st century measurement infrastructure, the organizations chose to launch the initiative on World Metrology Day, which marks the anniversary of the Treaty of the Meter, the 1875 international agreement on globally accepted units of measurement. 
"JIMB exemplifies how 21st century government can partner with academia and industry to promote the public good," said Under Secretary of Commerce for Standards and Technology and NIST Director Willie E. May. "Additionally, I'm personally very pleased to see this effort come to fruition. The notion of NIST working together with a partner like Stanford to help strengthen the measurement foundations of biology and biotechnology and foster innovation and a marketplace that will drive future prosperity was the vision of my former bioscience advisor, Michael Amos, who passed away four years ago."  
"We have long considered NIST to be a key public partner in advancing biomeasurement science," said Dr. Ann Arvin, Stanford's vice provost and dean of research. "We are delighted that NIST is now establishing a permanent West Coast presence to help advance basic science and promote innovative commercial developments." 
JIMB sprouted from an initial three-year collaboration focused on biological measurements. Thanks to these research connections, JIMB begins with a complement of 16 NIST staff members. They include NIST postdoctoral researchers embedded in Stanford faculty members' labs. In addition, eight Stanford graduate students are supported by NIST grants that encourage research that integrates measurement and biological engineering objectives. 
"To realize biotechnology's tremendous promise, we need to develop measurement platforms—standards, methods, and data—that support innovation within existing and entirely new industries," said Laurie Locascio, director of NIST's Material Measurement Laboratory. "Stanford's strong relationships with area biotechnology companies will continue to inform JIMB's work so that it is as widely applicable as possible." 
The partnership already has yielded practical benefits, including the world's first reference material to help ensure laboratories accurately "map" DNA for genetic testing, medical diagnoses and future customized drug therapies. The "measuring stick" for the human genome—NIST RM 8398—was created by NIST, Stanford, and their partners in the Genome in a Bottle consortium, which JIMB now manages. 
Since it was issued in May 2015, NIST's reference human genome has been helping medical labs to ensure the accuracy of genetic tests. The reference material also served as the comparative tool that the Food and Drug Administration used in its PrecisionFDA Consistency Challenge. Intended to improve the reliability, accuracy and utility of DNA testing, the challenge is a key element of President Obama's Precision Medicine Initiative. 
Besides Genome in a Bottle, two other NIST-hosted consortia—Synthetic Biology Standards and External RNA Controls—provide direct means for companies and other organizations to engage with JIMB. 
Initially, JIMB will focus on human genome sequencing and synthetic biology. NIST is in the process of establishing a West Coast facility where researchers will develop and prototype biometrology tools and produce validated tools and reagents for the biology sector. 
Read the Stanford announcement and "Measuring Moving Parts," a blog post by Laurie Locascio, director of the NIST Material Measurement Laboratory.