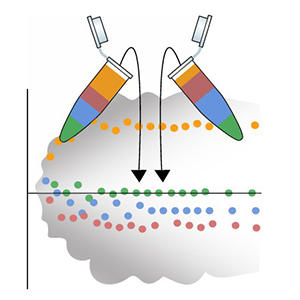 While early gene expression measurements with DNA microarrays were groundbreaking in their ability to reveal biological activity, the results were irreconcilable and irreproducible. Industry leaders approached the National Institute of Standards and Technology (NIST) in 2003 for help with addressing this problem.
NIST hosted the Industry-initiated External RNA Controls Consortium (ERCC) to build the measurement assurance tools needed to support reproducible gene expression measurements. ERCC partners from industry, government, and academia develop RNA spike-in controls and establish analytical methods for bringing reproducible gene expression measurements into routine, high-quality practice. ERCC metrology products include Standard Reference Material (SRM) 2374 for use in the production of RNA spike-in control mixtures, documentary standard CLSI MM16-A, and the erccdashboard R package, an innovative spike-in control analysis software tool. ERCC presentations are hosted on slideshare, as well as the 2014 workshop report.
ERCC control mixture products, derived from SRM 2374, are available through commercial sources. By adding mixtures of ERCC control molecules to experimental samples, scientists are now able to evaluate the technical performance of gene expression experiments. Scientists use ERCC-derived performance metrics for this evaluation, which can be produced using the companion erccdashboard analysis software.
The scientific community has embraced the use of ERCC products, leveraging these tools for measurement assurance, method development, and technology innovation. Gene expression assay and technology developers have incorporated ERCC controls derived from SRM 2374 and the erccdashboard software into their products and protocols.
ERCC Dashboard
The erccdashboard is the first software tool of its kind designed to provide a standard turn-key solution for evaluating the technical performance of any gene expression experiment. This unique tool produces performance metrics that are independent from the type of measurement technology used for an experiment. The erccdashboard gives scientists the ability to gauge the performance of experimental methods, evaluate repeatability and reproducibility of experiments over time and between laboratories, and establish trustworthy experimental results.
Some key performance metrics provided by the erccdashboard for gene expression experiments include:
Dynamic range;

Diagnostic performance;

Limit of detection of ratios;

Ratio measurement technical variability; and

Ratio measurement bias, including mRNA fraction differences between experimental samples.
The erccdashboard open source software is available for download here. The dashboard tool is written in the R statistical language, and can be easily incorporated into other analysis software packages.
In a Nature Communications paper published in September 2014, the authors describe the development and demonstration of the erccdashboard analysis methods. 
The stable release version of the erccdashboard , which is recommended for use, is available through the Bioconductor repository.
Development Versions of the erccdashboard code and archives are available on the NIST GitHub repository. 
Selected publications using ERCCs