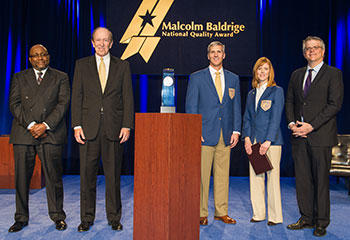 Describing them as "the nation's role models for excellence," U.S. Deputy Secretary of Commerce Bruce Andrews presented four U.S. organizations on April 3, 2016, with the Malcolm Baldrige National Quality Award, the nation's highest honor for organizational innovation and performance excellence.
Andrews said, "Only a handful of organizations each year earn a Baldrige [Award] crystal. But thousands more reap the benefits from using the Baldrige approach to measure and improve their performance. The Baldrige Framework is a systems approach that doesn't just recognize excellent organizations—it helps create them. What's even more impressive is that the structure Baldrige provides for understanding and achieving performance excellence works for so many type kinds of organizations."
Remarks (as prepared for delivery) by U.S. Deputy Secretary of Commerce Bruce Andrews at the Baldrige Award Ceremony on April 3, 2016.
Summary of Baldrige Award Ceremony on April 3, 2016, including highlights of remarks given by representatives of four 2015 Baldrige Award recipients

Named after Malcolm Baldrige, the 26th Secretary of Commerce, the Baldrige Award was established by Congress in 1987 to enhance the competitiveness and performance of U.S. businesses. Eligibility for the award was expanded in 1998 to include education and health care, and again in 2007, to include nonprofit organizations. The Baldrige Performance Excellence Program, managed by the National Institute of Standards and Technology (NIST) in conjunction with the private sector, raises awareness about the importance of performance excellence in driving the U.S. and global economy; provides organizational assessments, training, tools and criteria; educates leaders in businesses, schools, health care organizations, and government and nonprofit organizations; shares the best practices of national role models; and recognizes those role models with the Baldrige Award.
Since the first group was recognized in 1988, 109 Baldrige Awards have been presented to 102 organizations (including seven repeat recipients).
For more information, visit the Baldrige Performance Excellence Program website.