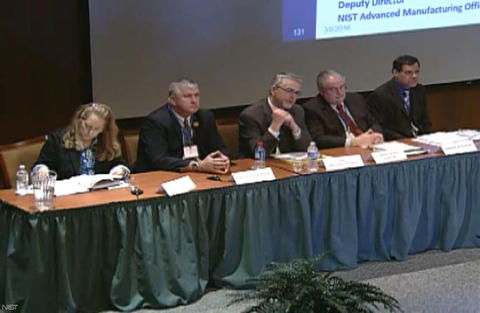 On Tuesday, March 8th, 2016, the NIST Advanced Manufacturing Office (AMO) hosted over 200 participants for a Proposers' Day, where the attendees learned the details of applying for a DOC/NIST competition that will support the establishment and operation of up to two Manufacturing Innovation Institutes. The competition is open to any topic proposed by industry that is not being addressed by another institute or funding opportunity in progress in the National Network for Manufacturing Innovation (NNMI) Program.
Like other institutes that are part of the NNMI, the NIST institutes will be private-public partnerships that foster collaboration among industry, academia, nonprofits and government agencies. Stakeholders are expected to accelerate U.S. innovation and increase competitiveness by investing in industrially relevant, cross-cutting advanced manufacturing technologies and processes. 
The Proposers' Day event, which was free and open to the public, covered important competition topics, including: the elements of a complete and competitive application; how applications will be evaluated; how to leverage the existing network of NIST Manufacturing Extension Partnership Centers; and administrative and award requirements.  
Held at the NIST campus in Gaithersburg, MD, with simultaneous webcasting, the event attracted 104 registered attendees and an audience of 145 online viewers. The event was recorded and made available for later viewing on the competition website. 
According to AMO Director Mike Molnar, "The strong engagement today of many leaders from industry and academia is an exciting indicator of interest in the program. We would like to underscore that attendance is not a prerequisite for submitting an application or receiving an award. Our intent is to provide information, tools and resources to assist all interested parties in proposing the next outstanding manufacturing innovation institute." 
Details about the 2016 NIST open-topic NNMI competition may be found on the competition website. Pre-Applications are due no later than April 20, 2016.