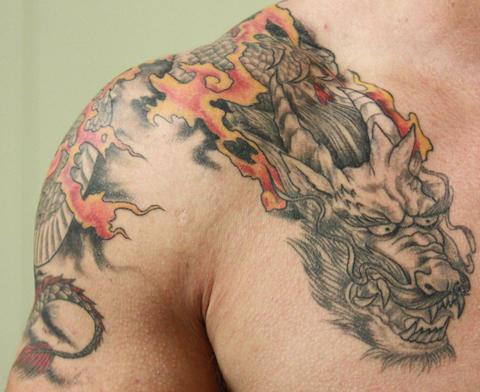 An international group of experts from industry, academia and government gathered today at the National Institute of Standards and Technology (NIST) to discuss challenges and potential approaches to automated tattoo recognition, which could assist law enforcement in the identification of criminals and victims.
One in five American adults sport a tattoo, and among the criminal population, that number is much higher. And while tattoos can be used to assist identification of people who may have committed a crime, they also are potentially valuable in supporting identification of victims of mass casualties such as tsunamis and earthquakes.
Participants at NIST's Tattoo Recognition Technology Challenge Workshop heard the results of a preliminary trial of existing tattoo recognition software. NIST challenged industry and academia to take initial steps into automated image-based tattoo matching technology at the request of the FBI Biometric Center of Excellence (BCOE).
The current method of cataloging tattoo images for sharing relies on a keyword based process. But the increasing variety of tattoo designs requires multiple keywords, and examiner subjectivity can lead to the same tattoo being labeled differently depending on the examiner.
All of the participating organizations used the same BCOE-provided dataset of thousands of images from government databases. NIST provided five use cases and asked the participants to report their performance on finding:
visually similar or related tattoos from different subjects;
different instances of the same tattoo image from the same subject over time;
a small region of interest that is contained in a larger image;
visually similar or related tattoos using different types of images such as sketches, scanned print, computer graphics, or natural images; and
whether an image contains a tattoo or not.
NIST computer scientist Mei Ngan organized the challenge and found that "the state-of-the-art algorithms fared quite well in detecting tattoos, finding different instances of the same tattoo from the same subject over time, and finding a small part of a tattoo within a larger tattoo."
Two areas that could use further research, she said, were detecting visually similar tattoos on different people and recognizing a tattoo image from a sketch or sources other than a photo.
"Improving the quality of tattoo images during collection is another area that may also improve recognition accuracy," Ngan said.
The six organizations that participated in the challenge include Compass Technical Consulting, LLC.; the Fraunhofer Institute of Optronics, System Technologies and Image Exploitation; the French Alternative Energies and Atomic Energy Commission; MITRE; MorphoTrak and Purdue University.
In addition to discussing the self-reported finding in this initial research step, participants also discussed the utility of image-based tattoo matching in operations, identified gaps and needs to improve tattoo recognition and discussed next steps NIST might take in this area.
Get more details regarding the discussions and outcomes of the workshop.
NIST has been the go-to source for testing and evaluation in biometrics for more than half a century, with the goal of ensuring biometric systems are accurate. The laboratory has played a major role in biometric research, including large-scale evaluations of fingerprint and face recognition systems.