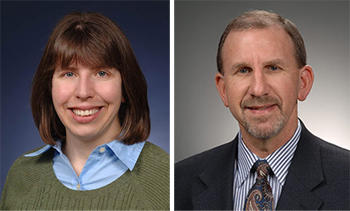 Two National Institute of Standards and Technology (NIST) researchers have been named finalists for 2015 Samuel J. Heyman Service to America Medals, which recognize excellence and innovation in the federal workforce.
Physicist Gretchen K. Campbell and computer security researcher Ron Ross were among the 30 finalists announced May 6 as part of Public Service Recognition Week. They were chosen from more than 500 nominations across the federal government.
Campbell was named a finalist in the Call to Service Medal category. The medal recognizes a federal employee whose professional achievements reflect the important contributions that a new generation brings to public service. Three others were named in the category.
She was selected for her work in advancing atomtronics, the emerging science of creating circuits, devices, and materials using ultra-cold atoms instead of electrons. The field could pave the way for a new generation of technologies that surpass today's state-of-the art electronics.
Ross, a NIST Fellow, is one of four finalists for the Homeland Security and Law Enforcement Medal, which recognizes a federal employee for a significant contribution to the nation in activities related to homeland security and law enforcement. Ross instituted a state-of-the-art risk assessment system that has protected federal computer networks from cyberattacks and helped to secure information critical to national and economic security.
The winners will be announced October 7, 2015, in Washington, D.C. The medals are bestowed by the Partnership for Public Service, a D.C.-based nonprofit organization.
To learn more about the Samuel J. Heyman Service to America Medals and this year's finalists, read "Finalists announced for 'Sammies,' which honor federal employees' work" in the Washington Post.