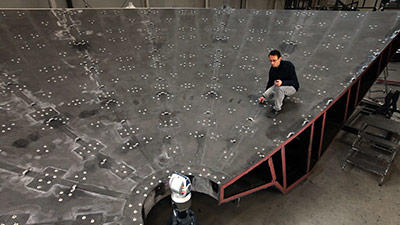 GAITHERSBURG, MD--The U.S. Commerce Department's National Institute of Standards and Technology (NIST) today announced 16 awards totaling $7.8 million to help accelerate the growth of advanced manufacturing in the United States. The grants will support industry-driven consortia in developing research plans and charting collaborative actions to solve high-priority technology challenges.
NIST's Advanced Manufacturing Technology Consortia (AMTech) Program has awarded the grants to universities and other nonprofit organizations in 11 states and the District of Columbia. The grants range from $413,000 to $500,000 for a period of up to two years. More than 40 organizations will share funding for work done in support of the 16 projects. In addition, more than 250 businesses, trade associations, universities and other organizations will collaborate as unfunded partners. 
"Strengthening American manufacturing is a key component of the Commerce Department's 'Open for Business Agenda,'" said U.S. Commerce Secretary Penny Pritzker. "The awards announced today will support public-private partner collaboration that boosts advanced manufacturing, which is critical to supporting economic growth. We will continue to make investments that keep our manufacturing sector on the cutting edge of innovation in order to create new growth industries and American jobs."
The new AMTech-funded projects span a wide variety of industries and technologies, from next-generation gas turbines and aerospace manufacturing to hybridized semiconductor and synthetic-biology devices and glass manufacturing.
"These projects will set a path for innovation and productivity growth in established and emerging U.S. manufacturing industries," said Willie E. May, Under Secretary of Commerce for Standards and Technology and NIST Director. "Partnerships like these are needed to tackle shared technical obstacles and, ultimately, to capture the practical and economic benefits of new knowledge, new technologies and new capabilities."
Thirteen of the projects will launch new consortia. All will initiate technology roadmapping activities or similar efforts intended to identify, prioritize and align research and development in targeted industry sectors.
Established in 2013, the AMTech program sparks partnerships between U.S. industry, academia and government. It encourages the formation of new industry-led consortia—and the strengthening of existing ones—for the purpose of tackling shared technical barriers to the growth of advanced manufacturing.
On July 30, 2014, the program announced its second competition for AMTech planning grants. Today's award recipients were selected from an initial pool of 118 applicants, seeking a total of $56.6 million in federal funding. 
Visit the NIST website to read summaries of the AMTech-funded projects and to see maps of the locations of the projects' lead organizations and their funded partners.
As a non-regulatory agency of the U.S. Department of Commerce, NIST promotes U.S. innovation and industrial competitiveness by advancing measurement science, standards and technology in ways that enhance economic security and improve our quality of life. To learn more about NIST, visit www.nist.gov.