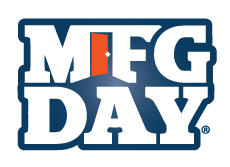 To support U.S. manufacturing and to connect Baldrige community schools and manufacturers with resources, the Baldrige Program has become an endorser of Manufacturing Day 2015. 
Established in 2012, Manufacturing Day shines a national spotlight on the importance of U.S. manufacturing and provides a forum for manufacturers to address their collective challenges, including connecting with future generations and addressing skilled labor shortages. The day, which some states have proclaimed to be month-long learning events, is intended to highlight events that expand knowledge about and improve the general public perception of manufacturing careers and manufacturing's value to the U.S. economy.
According to a recent Industry Week article, the manufacturing industry is looking at a shortfall of more than 2 million workers over the next decade. The shortage is led by the expected retirement of nearly 3 million Baby Boomers and fewer young people who see the industry as a career destination.
The Baldrige Program, which began in 1988 to develop, educate about, and promote a criteria to help manufacturers become more competitive with their global counterparts, continues to promote manufacturing through its products and services, including the free, downloadable, self-assessment Baldrige Excellence Builder, which helps organizations improve the most critical aspects of their operations. Baldrige Excellence Builder has a simple-to-use format and a how-to-use section that suggests first steps: for example, answer the Organizational Profile and prioritize your actions.
The Baldrige Excellence Framework (includes the Baldrige Criteria for Performance Excellence) a systems approach to leadership, management, and organizational performance improvement that ensures an integrated focus on the unique factors that drive success for an organization. The framework is therefore complementary to the quality and process improvement tools many manufacturers also use, such as Lean, Six Sigma, and ISO. The Baldrige framework works in conjunction with such improvement tools to ensure that an organization is making appropriate improvements to its most important processes in order to achieve organization-wide goals and objectives.
Additionally, Baldrige Award recipients in manufacturing continue to share best practices through the Quest for Excellence® conference, and Baldrige continues to provide sector knowledge in manufacturing.
To support U.S. manufacturing, within the Baldrige community,
Higher education and K-12 school systems may be interested in participating in real or virtual field trips with manufacturers to introduce students to manufacturing careers and STEM education. The Manufacturing Day Educator Toolkit (PDF) includes a searchable online calendar of events throughout the United States, as well as clips from the Science Channel's "How It's Made" television series. The toolkit also includes resources on how to connect and prepare students for manufacturing jobs, including skilled labor careers.
Manufacturers can host events, such as facility tours, presentations, and roundtables, to educate their local community, media, and prospective employees and customers, about operations. A Manufacturing Day Host Toolkit  (PDF) provides tips to inspire a new generation of manufacturers.
Businesses, hospitals, associations, service providers, and other organizations can participate as community supporters of manufacturing; resources and ideas are available in the Manufacturing Day Community Planning Guide (PDF).
Anyone can find a local event in his/her community to learn about modern-day manufacturing and how to support the jobs and skills such manufacturing represents.
Contact Baldrige Customer Service or Dawn Bailey (dawn.bailey [at] nist.gov) for more detailed information on how your school or other organization might benefit from Manufacturing Day.