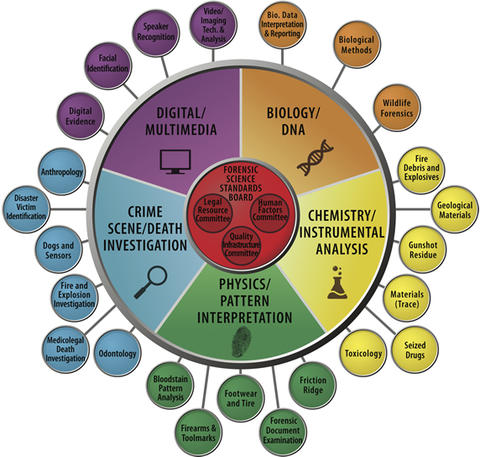 Forensic scientists interested in watching the first public meetings of the Organization of Scientific Area Committees will be able to see them online via a NIST webcast. The meetings will take place Feb. 16-17 in Orlando, Fla., coinciding with the American Academy of Forensic Sciences annual meeting.
Interested parties who are unable to attend in person may watch online by going to https://forensicosac.adobeconnect.com/osac. An archive of the webcast will be posted online approximately one week after the event.
OSAC's mission is coordinating the development of uniform standards and guidelines for the forensic science community. The meetings will include presentation and discussion of priorities for developing standards and guidelines for each forensic science discipline. See the meeting agenda online.
Attendees will have an opportunity to speak during a public comment period during the final 15-20 minutes of each subcommittee presentation. Written comments may also be submitted by email to forensics [at] nist.gov (forensics[at]nist[dot]gov). Place the name of the Scientific Area Committee on the email subject line and submit comments by March 3, 2015.
What are the OSAC committee chairs saying in anticipation of the first public meetings?
"The OSAC Digital and Multimedia Scientific Area Committee, working through its subcommittees and their task groups, is dedicated to ensuring that standards and best practices are established across all entities that may acquire, process, and analyze this type of evidence. It will build upon a solid foundation of standards, guidelines, and best practices developed over the past twenty years by the Scientific Working Groups on Digital Evidence and Imaging Technology, as well as the more recent work of the Facial Identification Scientific Working Group and the Scientific Working Group on Speaker Recognition." — Richard Vorder Bruegge, Digital/Multimedia SAC Chair
"The bottom line is that we are charged with strengthening the forensic science disciplines through the development/endorsement of standards. I was drawn to the OSAC because this model creates a nexus between standard development/endorsement and enforcement." — Scott Oulton, Chemistry/Instrumental Analysis SAC Chair
"I view the OSAC as a major step in bringing all laboratories onto a level playing field with regard to analytical expectations, clarifying standards used by accrediting bodies, and identifying areas for which additional research could be beneficial. It is extremely important that the results produced by all forensic laboratories performing analysis of biological evidence with a given technique are consistent, regardless of the analyst or laboratory involved." — George Herrin, Biology/DNA SAC Chair
To learn more about OSAC and NIST forensic science research, and to sign up to receive NIST forensic science news updates, visit www.nist.gov/forensics.