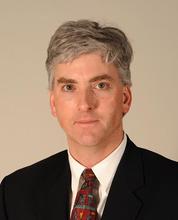 Richard W. Vorder Bruegge is a senior photographic technologist at the Federal Bureau of Investigation where he is responsible for overseeing science and technology developments in the imaging sciences. He has an Sc.B. in engineering, and an Sc.M. and Ph.D. in geological sciences from Brown University. He has been with the FBI since 1995, where he has performed forensic analysis of image and video evidence, testifying in state, federal and international courts as an expert witness over 60 times.
Vorder Bruegge was chair of the Scientific Working Group on Imaging Technology from 2000 to 2006 and chair of the Facial Identification Scientific Working Group from 2009 to the present. He is a fellow of the American Academy of Forensic Sciences in the Digital and Multimedia Sciences Section. In 2010 he was named a Director of National Intelligence Science and Technology Fellow for his work in facial recognition. In addition to several publications on forensic image analysis, he has also co-authored multiple peer-reviewed articles on facial recognition and identification and was co-editor of
Computer-Aided Forensic Facial Comparison
(CRC Press, 2010).
He was appointed to the FSSB in 2014.