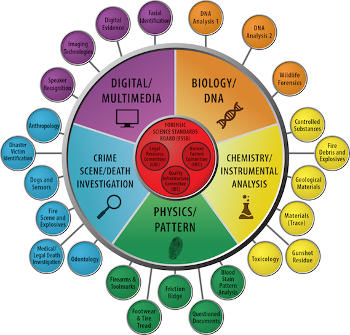 The Organization of Scientific Area Committees (OSAC), which coordinates the development of standards and guidelines for the forensic science community under the auspices of the National Institute of Standards and Technology (NIST), will hold its first set of public meetings in Orlando, Fla., on Feb. 16 and 17, 2015. The meetings will include presentation and discussion of priorities for developing standards and guidelines for each forensic science discipline.
Each of OSAC's five Scientific Area Committees—–Digital/Multimedia, Crime Scene/Death Investigation, Biology/DNA, Chemistry/Instrumental Analysis and Physics/Pattern Interpretation—will hold a half-day meeting during the two days. The OSAC meetings will coincide with the start of the American Academy of Forensic Sciences (AAFS) annual meeting, which runs Feb. 16 to 21, also in Orlando. No registration is required for the OSAC meetings.
"These five meetings represent the first public opportunity for OSAC to discuss and set priorities as it begins its work to establish and improve forensic science standards. We are looking forward to a very productive time," said John Paul Jones II, the organization's associate director for OSAC affairs.
The meetings will provide a platform for the OSAC subcommittee chairs to publicly announce their subcommittees' priority action plans for developing forensic science standards and guidelines for 2015 and beyond and to solicit public feedback.
Attendees will have the opportunity to offer public comments at the end of each subcommittee presentation. More information on the location, the agenda and the process for submitting comments is available on the meeting agenda page. The meetings will be webcast and archived for six months. The live webcast link will be added to the agenda page prior to the meeting.
In December 2014, OSAC subcommittees began reviewing a NIST-developed preliminary inventory of forensic science standards, guidelines and related documents. That review marked the start of OSAC's work toward developing an OSAC Registry of Approved Standards and an OSAC Registry of Approved Guidelines. Get more information.
To learn more about OSAC and NIST forensic science research, and to sign up to receive NIST forensic science news updates, visit www.nist.gov/forensics.