Forensic science research goes back a long way at the National Institute of Standards and Technology (NIST)—more than a century. In fact, the agency served as the nation's federal crime laboratory from 1913 to 1932, when the FBI established its own operation. Today, NIST research programs continue to make significant contributions to forensics, strengthening its scientific underpinnings and ensuring the credibility necessary for effective criminal justice.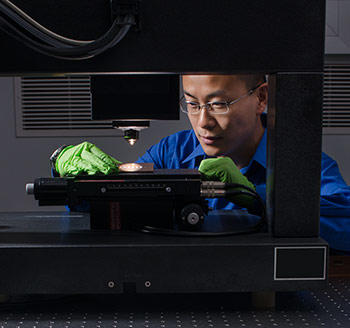 To spotlight how NIST currently serves the forensics community, the agency is hosting "Forensics@NIST 2014" on Dec. 3-4, 2014, at NIST headquarters in Gaithersburg, Md.
Attendees at the two-day symposium will learn how NIST's world-class laboratories and staff support many branches of forensic science including DNA analysis, fingerprint impression analysis, biometrics, ballistics, and computer and cell phone forensics. The event will feature numerous lectures and poster presentations by NIST scientists, engineers and collaborators.
Each day will highlight a specific set of disciplines:
Dec. 3: computer forensics, latent fingerprints and other biometrics, and DNA
Dec. 4: firearms/toolmark analysis and statistical measurements
Opening the symposium will be the keynote address "Are Judges Losing Confidence in Forensic Science?" by Jed S. Rakoff, U.S. District Court Judge for the Southern District of New York. Judge Rakoff also teaches courses at Columbia Law School in white collar crime, science and the law, class actions, and the interplay of civil and criminal law. He is the co-author of five books and has published more than 125 articles.
NIST is hosting the symposium at no cost to attendees. However, to allow as many people as possible to benefit from the event, participants are asked to sign up for only the specific days they plan to be present. Registration ends Nov. 26, 2014.
To register online, visit the symposium homepage.
Attendees may participate in one of several special tours/demonstrations highlighting NIST programs in ballistics testing, usability and fingerprints, robotic intelligence systems, neutron research, rapidly simulated environmental exposure of evidence, and trace contraband detection, as well as guided visits of the NIST Museum and the interactive exhibit exploring the agency's mission and historic achievements. For tour details, including sign-up on a first-come, first-served basis, contact Corinne Lloyd at corrine.lloyd [at] nist.gov.
For those unable to attend "Forensics@NIST 2014" in person, the presentations will be webcast. Details on how to access the program will be posted before December 3 on the symposium homepage.
To learn more about NIST forensic science research, activities and resources, see www.nist.gov/forensics.