The Tata group—today a large Indian conglomerate whose many well-known brands include Jaguar Land Rover, Taj Hotels, Tetley, and Eight O'Clock Coffee—transformed itself from a $4 billion domestic company in 1991 to a $103 billion global enterprise by 2014, with an untiring focus on business excellence—a transformation derived from the Baldrige Excellence Framework.
In a recent paper "Transformation with Business Excellence and Innovation: Lessons from the Tata Group ," the authors outline how use of the Tata Business Excellence Model (TBEM), which is based on the Baldrige Criteria1, led to the transformation. Sunil Sinha, formerly CEO, Tata Quality Management Services and Chief of Group, Quality Management Services, Tata Sons Limited (currently resident director, Middle East and North Africa Region, Tata Sons), said in an interview on Blogrige that Tata has been using the Baldrige Criteria since the early 1990s2, customizing and renaming them the TBEM in 1998. Tata formally mandated the use of TBEM for any company that wanted to use its brand name by asking the company to commit to run its business in an excellent and ethical manner.
"TBEM has contributed to the profitable growth of Tata companies since the mid-1990s by impacting companies in all facets of their business," wrote Sinha and Sunil Mithas, professor and research director, Center for Excellence in Service, Robert H. Smith School of Business at the University of Maryland. "[TBEM] did so by creating a common identity, improving overall brand equity, integrating global entities and facilitating global expansion, enabling innovations in processes and products, and improving financial performance. Notably, TBEM became an overarching framework for Tata companies to formulate and execute their strategies to assure sustainability and future growth that has eluded many other companies."
TBEM enabled use of "a common methodology, process, and vocabulary to share and transplant best practices from one company to another," the authors add. "Companies also utilized learning missions, networking forums, workshops, and conventions to benchmark and share ideas and expertise to improve their processes."
The Tata group, which has been named among the "50 most innovative companies in the world," is now considered one of India's "global powerhouses," and TBEM has had a major role in making Tata companies globally competitive. "In 2013, over 60% of the group's revenue came from outside India. International benchmarking and a culture of continuous process improvements, both of which are integral parts of the TBEM, helped companies build competitive positions in the global marketplace and emerge as global players in several industries such as steel, software, automobiles, and tea," the authors write.
According to the authors, "the group has made a creative use of TBEM to institutionalize innovation by integrating its recent innovation efforts with TBEM criteria." For example, among Tata's companies,
Titan, which manufactures watches, jewelry, sunglasses, and prescription eyewear, holds an "innovation bazaar" for employees to showcase innovations and cross-fertilize other ideas. With the goal to create collaboration across business units, a platform called Interweave was created to bring brands together, with team members given tasks involving innovations in acquisitions, customer retention, retail processes, and advertising. In addition, Titan also provides funds to its managers that can be replenished for experiments.
To challenge employees to develop ideas and prototypes, Jaguar Land Rover uses Tata InnoVerse, an innovation and collaboration hub for all Tata companies where employees can network, collaborate, share, and implement innovative ideas.
Tata Consultancy Services (TCS) uses a 4E (explore, enable, exploit, and evangelize) approach for innovation and is known for its Co-innovation network (COIN) that connects it with academia, venture capital firms, and other companies, as well as an internal social platform called KNOME to manage knowledge and innovation.
In 2012–2013, the Tata group's research and development (R&D) expenditure was Rs 13,223 crore (U.S. $2.43 billion), which represents a significant jump of approximately 23.8% in terms of rupees (8% in terms of U.S. dollars) compared with 2011–2012. The Tata group's R&D turnover ratio is substantially higher than that of India's R&D gross domestic product ratio of 0.76%.
Many Tata companies have been applying the Baldrige-based TBEM for about 20 years now. "This consistency in implementing a philosophy and program for business excellence has given Tata companies a common identity and a competitive edge in the areas of globalization, innovation, customer and employee focus, leadership, and strategic planning, and this has led to improved financial performance," write Sinha and Mithas.
Through the analysis of data and a primary survey, the authors conclude that a strong relationship exists between TBEM and financial outcomes, such as productivity, revenues, return on capital employed, profits, and less risk. They outline a pathway for other conglomerates—from building commitment, to improving, to becoming competitive globally:
"The lessons and framework that we outlined should help conglomerates and firms around the world rediscover their potential and charge ahead using the levers of innovation and business excellence frameworks such as Baldrige."
Figure: Growth in Tata Group Revenues Over Time (Revenues in $ billion)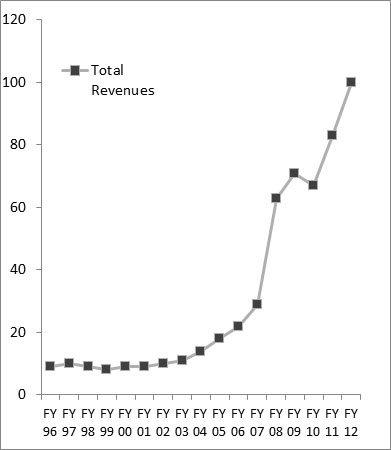 See Dancing Elephants3 and Leaping Jaguars to further outline Tata's success with TBEM.
---
1Tata licenses the Criteria for this adaptation. To learn about licensing and adapting the Criteria, contact the Baldrige Program at 301-975-2036 or e-mail baldrige [at] nist.gov.

2In one of Tata's Leadership Thoughts videos, Sinha explains more about Tata's use of the Baldrige-based TBEM program. Another video traces the evolution of the use of the Baldrige Criteria through Tata's Business Excellence Model.

3"Elephants" is a common reference used in books about corporate transformations. In 2003, former IBM CEO Louis V. Gerstner wrote Who Says Elephants Can't Dance about IBM's turnaround.