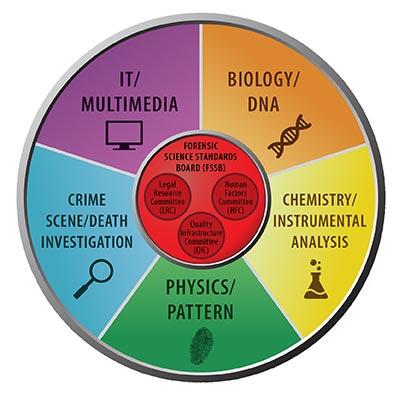 The National Institute of Standards and Technology (NIST) today named nearly 70 new members to the Organization of Scientific Area Committees (OSAC), the NIST-administered body that is seeking to strengthen forensic science through the identification and development of standards and guidelines.
The latest round of appointments is for the OSAC's five scientific area committees. These committees provide the critical bridge between the Forensic Science Standards Board and the 23 discipline-specific subcommittees which will lay the groundwork for establishing new forensic science standards and guidelines.
"The new appointees represent leading forensic science experts and researchers from crime laboratories and academic institutions," said John Paul Jones II, associate director for OSAC affairs. "We're grateful that they are willing to participate in the OSAC."
The Scientific Area Committees will manage of the work performed by the OSAC subcommittees and play a key coordination role when standards and guidelines span multiple forensic science disciplines. Scientific Area Committee meetings will provide an open venue for OSAC subcommittees' work products to be shared with the public for feedback. The Scientific Area Committees have the authority to approve OSAC guidelines for publication in the OSAC Registry of Approved Guidelines and approve standards to be presented to the Forensic Science Standards Board for approval and inclusion in the OSAC Registry of Approved Standards. View the membership of each Scientific Area Committee through these links:
•  Chemistry/Instrumental Analysis 
•  Crime Scene/Death Investigation 
The committees will hold virtual online kick-off meetings during the month of September. To learn more about OSAC and NIST forensic science research, and to sign up to receive NIST forensic science news updates, go to www.nist.gov/forensics.