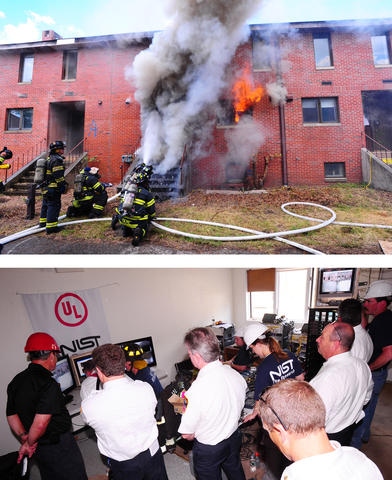 A new, free, online course offered by the UL Firefighter Safety Research Institute (FSRI) highlights the tactical application of nearly two decades of research at the National Institute of Standards and Technology (NIST) and UL on how best to fight modern fires.
NIST fire researcher Dan Madrzykowski explains that work going back to the 1990s, ranging from small-scale lab tests up through computational fluid dynamic simulations on computers and full-scale controlled "burns," has been directed at better understanding how to fight a modern fire.
"Dwellings have changed since the 1950s and 60s," says Madrzykowski. "They burn differently. Floor plans are more open, there's much more use of plastics and other synthetics. Fire departments need to know how to change their standard operating procedures to better fight the fire and protect the safety of both firefighters and any victims in the building."
The focal point of the FSRI course is the results from a series of live fire experiments conducted by NIST, UL and the Fire Department City of New York (FDNY) in 2012 on Governor's Island, New York.*
The insights gained from that history of research are distilled in "Scientific Research for the Development of More Effective Tactics," the new online course offered by FSRI. Designed for firefighters of all grades, the course, according to FSRI,
... brings science to the streets by examining two main groups of tactical considerations. The first group looks at the impact of controlling ventilation and flow paths. The second explores the use of exterior fire attack as a means to rapidly reduce the fire hazard inside the structure in order to facilitate interior fire operations.
Read more about the course in the UL news announcement, "UL FSRI Launches New Online Training Program." View the course at [link removed].
 
---