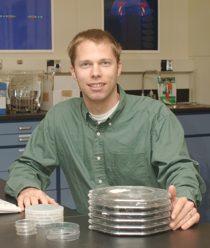 Material Measurement Laboratory researcher R. Joseph Kline was recently named among the 102 recipients of the Presidential Early Career Awards for Scientists and Engineers (PECASE), the highest honor bestowed by the United States Government on science and engineering professionals in the early stages of their independent research careers. Kline will receive his award at a Washington, D.C., ceremony later this year.
Kline is recognized internationally for his scientific leadership in the characterization of molecular factors that are critical to the performance of organic electronics—an exciting class of materials that, if properly harnessed, promise a wealth of innovative technologies including flexible electronic devices and affordable solar cells that can be printed on a roll-to-roll manufacturing line. In particular, Kline has pioneered the use of grazing incidence X-ray diffraction (GIXD) as a now-widespread technique for quantifying the orientation and structure of organic electronic molecules in films, the knowledge and control of which is critical for the manufacture of high-quality organic electronic devices. The lack of methods to quantify these factors was a considerable road-block for organic electronics, but measurement advances like GIXD have fueled new interest in this technology. Kline has emerged at the forefront of this wave because his GIXD measurements reveal the molecular basis for charge carrier mobility transport in organic semiconductor materials. His stature in the field is reflected in over 60 peer-reviewed publications (including five invited review articles and two book chapters), over 5000 citations, an h-index of 26, 27 invited lectures in the U.S. and multiple countries, and several prestigious NIST and external awards.
Kline is widely known across NIST for his expertise in x-ray scattering and for generously contributing his talents to projects across the laboratories and divisions. He has co-organized three international symposia on organic electronics and a NIST workshop on "Advanced Data Analysis and Modeling Tools for Scattering Methods." He has led or co-led collaborations, CRADAs, or MTAs with Merck Chemical, Corning, IBM, Dow Chemical, KLA Tencor, SEMATECH, HGST, and Intel. He serves on the Advanced Photon Source Proposal Review Panel, the National Synchrotron Light Source Proposal Review Panel, the Center for Functional Nanomaterials Proposal Review Panel, and previously served on the Stanford Synchrotron Radiation Laboratory User Organizational Executive Committee, and participated in the planning of new beam lines for the National Synchrotron Light Source-II. Kline has mentored multiple undergraduates and graduate students, and NRC-NIST Postdoctoral Fellows.