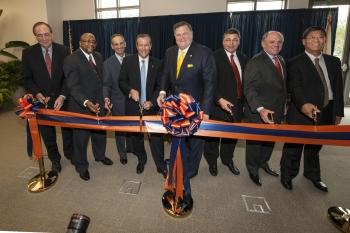 The Commerce Department's National Institute of Standards and Technology (NIST) hosted a ceremony Friday, September 13 to dedicate the Mike Hubbard Center for Advanced Science, Innovation and Commerce at Auburn University in Alabama.
The Center is a $28.8 million research facility designed to support multidisciplinary research in bioenergy, water quality, food safety and engineering, genomics, information science and ecosystem health. The new lab includes 20 high-tech laboratories with specialized equipment, a super computer, seminar rooms and outside features such as two 5-ton cranes for biofuels work.
The lab was partially financed by a cost-share award of $14.4 million from NIST's Construction Grants Program as part of the American Recovery and Reinvestment Act of 2009. The grants program has helped to fund either new construction or expansions at 24 research facilities across the country in fields as diverse as marine ecology, quantum physics, earthquake simulation and nanoscale measurement. The grants were designed to foster cutting-edge research in science and technology to advance economic growth and international competitiveness.