The American National Standards Institute (ANSI) has recognized two staff members from the National Institute of Standards and Technology (NIST) for their significant contributions to national and international standardization activities, as well as ongoing commitment to their industry, their nation and the enhancement of the global voluntary consensus standards system.
 
Biometric Testing Project Leader Patrick Grother, of NIST's Information Technology Laboratory, will receive the Edward Lohse Information Technology Medal, which recognizes outstanding effort to foster cooperation among the bodies involved in global IT standardization. Grother has supported biometrics standardization, particularly with respect to standards for biometric data interchange and testing performance of biometric technologies.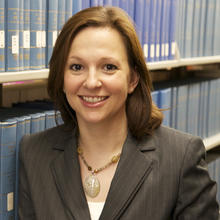 Deputy Standards Liaison Elaine Newton, also in NIST's Information Technology Laboratory, has been named one of three recipients of the Next Generation Award, which is presented to outstanding members who have been engaged with the association for less than eight years. Newton is being honored for demonstrating vision, leadership, dedication and significant contributions to standards activities since 2006.
The awards will be presented October 2, 2013, during World Standards Week 2013.
ANSI is a private, nonprofit organization whose mission is to enhance U.S. global competitiveness and the American quality of life by promoting, facilitating and safeguarding the integrity of the voluntary standardization and conformity assessment system. The organization is the official U.S representative to the International Organization for Standardization.