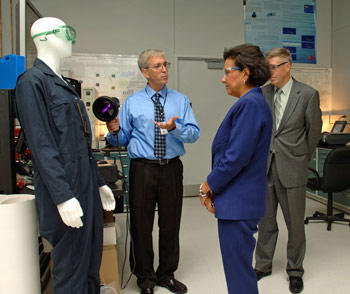 U.S. Commerce Secretary Penny Pritzker visited the National Institute of Standards and Technology (NIST) in Gaithersburg, Md., today, as part of her nationwide listening tour. The campus hosts approximately 2,700 NIST staff members, as well as visiting researchers, post-doctorate fellows and undergraduate students.
The Secretary met with NIST senior executives to discuss Commerce priorities and took a tour of a laboratory focused on the most effective ways to collect and accurately analyze small or trace amounts of contraband such as drugs or explosives. The NIST Trace Contraband Detection Program supports the deployment and effective use of detection devices throughout the United States. NIST scientists use their existing expertise in particle analysis, analytical chemistry and chemical microscopy to study the explosives collection and detection process in detail and to help field methods.
Secretary Pritzker saw demonstrations of some NIST-developed devices that could speed the processing of airline passengers while accurately assessing them for trace contraband. A shoe-sampler uses air jets to blow samples off of shoes still on the wearer's feet, while another device checks IDs for samples transferred on fingertips. She also learned about the program making use of a 3-D printing machine to rapidly create new devices for improving detection methods. Through these efforts, NIST supports standards that ensure detectors in the field today work as expected and develops the specialized measurement expertise that will be needed for the next generation of explosive detection equipment.
Read full blog post on the Department of Commerce Web site >> (Link no longer active.)