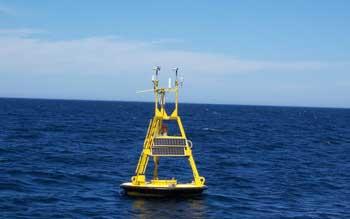 The National Institute of Standards and Technology (NIST) has released the Department of Commerce's (DOC) 2012 Technology Transfer Report. The annual report summarizes the technology transfer activities of its three federal laboratories: NIST, the National Oceanic and Atmospheric Administration (NOAA), and the Institute for Telecommunication Sciences (ITS) of the National Telecommunications and Information Administration (NTIA).
In response to a Presidential Memorandum on accelerating technology transfer, this report also summarizes the actions the DOC is taking to establish goals and measure performance, streamline administrative processes, and facilitate local and regional partnerships to accelerate technology transfer and support private-sector commercialization.
The many innovations emerging from DOC labs in 2012 include NIST scientists' development of a computational method for identifying refrigerants with low potential for contributing to climate change. The new method was used to identify about 1,200 promising chemicals for further study among some 56,000 that were considered. Only about 60 of these have boiling points low enough to be suitable for common refrigeration equipment, an indication of how difficult it is to identify usable fluids.
NOAA researchers successfully patented a system for measuring and transmitting comprehensive information about surface ocean waves in near real-time from a moored buoy. Such information is essential for marine weather analysis, forecasts and warnings, and useful for improving maritime safety. NOAA has already received requests for licensing the technology.
In addition to its activities in developing telecommunications standards, the ITS, in partnership with NIST, has entered into a number of Cooperative Research and Development Agreements with companies seeking to test technologies that could be used as part of a dedicated nationwide public safety communications network.
"With the reported doubling of the number of new invention disclosures, almost 3,000 collaborative research agreements, and a diverse set of robust downstream outcomes, this report illustrates that technology transfer continues to play an important role in the Department's mission to promote job creation, economic growth, sustainable development, and improved standards of living for all Americans," says Patrick Gallagher, NIST Director and Under Secretary of Commerce for Standards and Technology.
Links:
The NOAA system for measuring and transmitting ocean wave data (removed link; no longer active)