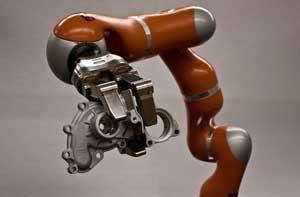 Even though modern industrial robots are becoming nimbler and more capable, they still need to get a good grip on things—the equivalent of hands that are as agile and dexterous as the human variety.
How to tackle the thorny challenge, known in robotics speak as dexterous manipulation, was the aim of a recent workshop hosted by the National Institute of Standards and Technology (NIST). The workshop featured speakers from manufacturing companies (end users), along with developers of robot arms and of advanced robot "hands." Proceedings of the workshop, which NIST is using as it crafts a technology roadmap to guide measurement science research in the field, are summarized in a new report.
Factors driving the quest for human-like robot arms and grippers are quality control, cost, throughput and worker safety. According to one manufacturer at the workshop, two-thirds of his company's worker compensation cases are ergonomic disorders, mostly due to repetitive strain, over-extension and over-exertion.
Robotic arms are now starting to come in pairs, mounted to either a fixed or rotary torso with each arm having seven joints instead of the conventional six. This option boosts the dexterity of a robot and allows it to move its elbow around obstacles while maintaining precise placement at its working point.
Some models incorporate force sensing at each joint. Force-based control introduces new assembly capabilities, and it improves safety, so that robots can operate nearer to workers.
Called hands, grippers, manipulators and end effectors, the business ends of robots are now largely single-purpose tools, designed to grasp parts with a specific shape. More capable, multiple-function grippers, often called robotic hands, are edging into the market, but they are a far cry from the universal gripper that is a holy grail of robotics research.
Meanwhile, new robotic arms and hands aimed at the manufacturing industry are hitting the commercial market and university researchers are experimenting with a growing array of robotic hands that hold the promise of greater dexterity. But whether these inventions can stand up, reliably and cost-effectively, to the rigors of a factory is one of many unknowns.
And even if a robot only needs to manipulate a single type of part, it still will need to detect and grasp the part in high degrees of clutter.
"Manufacturers face many challenges in implementing next-generation automation, especially when their production mix involves low volumes of parts with high mixtures of part types," according to the report. "Small batches, which might include even batches of one, require quick turnover rates and the ability to reprogram a multiplicity of involved processes." These types of operations require adaptive grippers that are, as one representative from a consumer products company put it, "blind to shape."
Workshop discussions focused on the need for metrics and tests for judging the dexterity and overall performance of emerging robotic arm and hand technologies. Key areas of need include metrics for assessing reliability, ease of programming, reachability, energy consumption per payload, and coordination if multiple arms or hands are used. Along with metrics, test methods and artifacts can help establish common understanding of what the performance requirements are and how different solutions address them.
Participants recommended a framework to evaluate tasks and parts as a means to evaluate the effectiveness of candidate technologies. Competitions were suggested as an incentive to drive research and development.
These and other recommendations were seen as steps toward solving the ultimate challenge identified by workshop participants: How to drive the transition of research solutions into real-world solutions for industry.
---