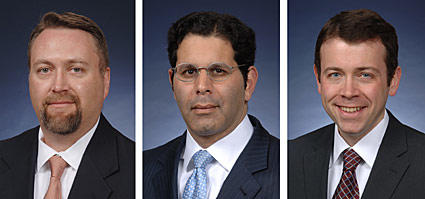 Three members of the National Institute of Standards and Technology's (NIST) Information Technology Laboratory were named to the 2013 list of the top 100 government, industry and academic leaders in the federal government IT community. The award recognizes individuals who are making a difference in the way technology has transformed their agency or accelerated their agency's mission.
The Federal 100 Awards are sponsored by Federal Computer Week. Recipients are chosen by a panel of government and industry leaders. They will be formally honored at a gala on March 20, 2013.
Jon Boyens is a senior information technology security specialist in the Computer Security Division. As lead for NIST's Information and Communications Technology (ICT) Supply Chain Risk Management (SCRM) project, he identifies and evaluates technologies, tools, techniques, practices and standards useful in managing risk to the ICT supply chain and co-leads the U.S. government's efforts to develop ICT SCRM lifecycle processes and standards.
Jeremy Grant is a senior executive advisor for identity management at NIST. He leads the National Strategy for Trusted Identities in Cyberspace (NSTIC) National Program Office, which is working to foster a vibrant marketplace of identity solutions—provided by entities both private and public—that would enhance the security, convenience and privacy of online transactions.
Senior Information Technology Policy Advisor Adam Sedgewick coordinates information technology projects with NIST's critical partners in the federal arena, including the Chief Information Officers' Council, the Office of Management and Budget and the National Security Staff. Sedgewick is leading NIST's newest project to develop a cybersecurity framework for critical infrastructure such as power plants, and financial, transportation and communications systems, as called for in President Obama's 2013 Executive Order on "Improving Critical Infrastructure Cybersecurity."