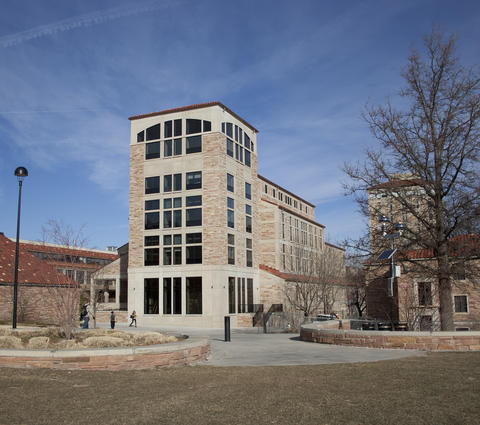 JILA's new X-Wing addition has received two construction industry awards—best project in higher education/research and special judges' recognition—from the Engineering News-Record, a trade magazine.*
JILA is a joint institute of the National Institute of Standards and Technology (NIST) and the University of Colorado Boulder. Located on the university campus, JILA recently celebrated its 50th anniversary and dedicated the X-Wing.** The new six-story wing adds about 4,600 square meters (50,000 square feet) of laboratory, office and collaboration space to enhance JILA's capacity to train a new generation of top scientists and innovators.
The X-Wing was honored in the News-Record's annual "best projects" competition for the Mountain States. Entries were judged based on safety, use of teamwork and innovation to overcome challenges, contribution to the community, design aesthetics, and how well the project was built and met the owner's goals.
The X-Wing was cited as a best project because the construction took place in a congested area and had to minimize impacts on nearby activities. For example, the construction team worked with scientists to limit noise and vibration effects on world-class precision measurement research under way in JILA's older building, which is attached to the X-Wing.
The X-Wing also received special judges' recognition for outstanding craftsmanship and impact on the community.