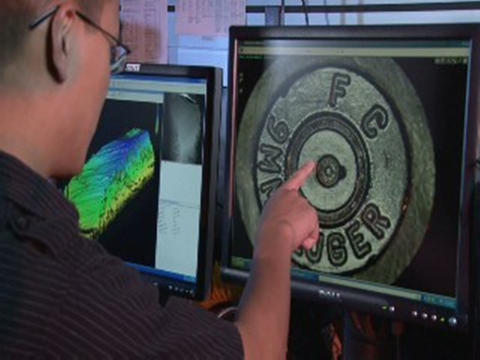 The link between the National Institute of Standards and Technology (NIST) and forensic science dates back to 1913 when the agency's predecessor, the National Bureau of Standards, served as the nation's de facto criminal forensics laboratory until the Federal Bureau of Investigation hired its first scientist in 1932. Since that time, NIST has continued to play an important role in improving the accuracy and reliability of forensic science by developing calibration methods and reference standards, advancing state-of-the-art measurement techniques, and helping establish performance and procedural criteria. To showcase how NIST currently serves the forensics community, the agency is hosting "Forensics@NIST 2012" on Nov. 28-30, 2012, at NIST headquarters in Gaithersburg, Md.
Attendees at the three-day symposium will learn how NIST's world-class laboratories and staff support many branches of forensic science including DNA analysis, arson investigation, trace evidence analysis, fingerprint impression analysis, biometrics, and computer and cell phone forensics. The event will feature 45 lectures and 40 poster presentations by NIST scientists, engineers and collaborators.
Each day will highlight a specific set of disciplines:
Nov. 28: forensic biology/DNA, firearms/toolmark analysis and fire research
Nov. 29: trace analysis/collection
Nov. 30: computer forensics, fingerprints and biometrics, and multimedia forensics
Along with access to a limited number of forensics product and service exhibitors, attendees at "Forensics@NIST 2012" will have the opportunity to experience a deployable forensic laboratory on display by one of the exhibitors that demonstrates how sampling, collection and analysis of evidence can be executed outside a traditional crime laboratory environment.
NIST is hosting the symposium at no cost to attendees. However, to allow as many people as possible to benefit from the event, participants are asked to sign up for only the specific days they plan to be present.
Get more information and register online. Learn more about NIST forensic science research, activities and resources.
Interested persons also may want to check out a video featuring presentations from recent NIST meetings on forensic science. It covers the July 10-11, 2012, "Measurement Science and Standards in Forensics Firearms Analysis Conference." Presentation topics include the current state of firearms analysis, manufacturing processes and procedures, measurement advances, and innovations in image and statistical analysis. An industry panel discussion on automated ballistic search and identification systems also is featured.
 
* Edited to update text on 05/02/14.