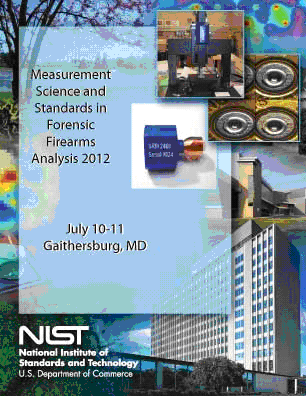 Since the early 1900s, forensic scientists have been using firearms analysis to associate bullets and cartridge cases left at crime scenes to specific weapons. As the Scientific Working Group for Firearms and Toolmarks (SWGGUN) has stated, "Currently, the interpretation of individualization / identification is subjective in nature, founded on scientific principles and based on the examiner's training and experience."  Various researchers have attempted to apply more objective and quantitative measurement-based techniques to the analysis of firearms and toolmarks.  This research has advanced the discipline; however, these techniques have not been universally adopted into routine practice by examiners.
For that reason, NIST OLES is partnering with SWGGUN and The Association of Firearm and Tool Mark Examiners (AFTE) to host the Measurement Science and Standards in Forensic Firearms Analysis 2012 conference. This event, from July 10 to 11, 2012, on the NIST Gaithersburg campus, will allow participants to discuss the current state of firearms analysis techniques—and its limitations—as well as research advancements that support more quantitative measurement techniques.  In addition, participants will help develop a roadmap for incorporating quantitative measurements in analysis procedures and the potential barriers to their adoption.

Conference participants will include firearms examiners, researchers, measurement science experts, statisticians, material scientists, metallurgy experts, image analysis experts, and industry representatives. For more information or to register, please visit the OLES event page.