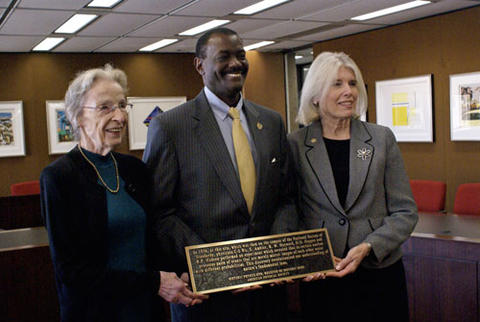 The American Physical Society (APS) has named the location of a 1956 breakthrough by NBS scientists as an "historic site."
The lab in which NBS researchers determined that parity is not conserved in weak interactions was on the site of what is now the University of the District of Columbia. On Nov. 9, 2011, APS Executive Officer Kate Kirby and UDC President Allen Sessoms were joined by PML Director Katharine Gebbie to unveil the commemorative plaque marking the designation. 
The inscription on the plaque reads:
"In 1956, at this site, which was then on the campus of the National Bureau of Standards, physicists C-S Wu, E. Ambler, R.W. Hayward, D.D. Hoppes and R.P. Hudson performed an experiment which revealed that in certain nuclear processes pairs of events that are merely mirror images of each other occur with different probabilities. This discovery revolutionized our understanding of nature's fundamental laws."
Read more about the event and the APS Historic Sites Program.