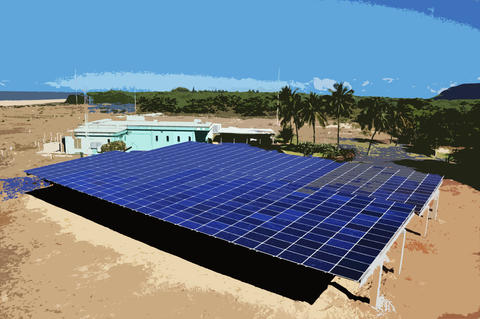 The sun is now a significant power source for the National Institute of Standards and Technology (NIST) radio station WWVH, which broadcasts time of day, marine storm warnings, and other information to listeners worldwide from its base on the island of Kauai, Hawaii.
Photovoltaic arrays were built at WWVH during 2010 and connected to the local electrical grid last week. The array provides much of the 100 kilowatts of daytime power used by the radio station and reduces the need for electricity produced by the local utility with diesel generators. The conversion is expected to save the radio station nearly $60,000 per year. The station operates 24 hours a day and gets power from the grid at night.
In addition to lowering electricity costs, the solar array will reduce pollution. Giving WWVH a renewable energy source—the sun is plentiful in Hawaii—significantly reduces the facility's "carbon footprint" from diesel emissions such as soot, components of smog, and hydrocarbons.
WWVH provides time and frequency calibrations for marine radios and GPS status announcements for mariners as well as other users. WWVH has been located at the Barking Sands Naval Base on Kauai since 1971. The radio station originally began broadcasting in 1948 from the island of Maui in what was then the U.S. territory of Hawaii (Hawaii was granted statehood in 1959). The move to Kauai was prompted by an eroding shoreline at the original site.
The $1.4 million solar construction project was funded by the American Recovery and Reinvestment Act (ARRA). A small business, Adon Construction Inc. of Kaneohe, Hawaii, was the general contractor, with about 37 people employed on the six-month project. The system consists of eight separate arrays, with each module housing the equipment needed to convert the energy generated from the panels into usable power. The solar array is designed for a marine environment and to withstand 105 mile-per-hour winds. The project is part of an upgrade and expansion of WWVH infrastructure.
More information about WWVH can be found online.