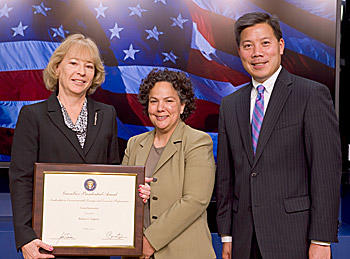 Barbara Lippiatt, a researcher at the National Institute of Standards and Technology (NIST), is one of eight winners of the 2010 GreenGov Presidential Awards given to workers or teams across the federal government. Presented on October 7, 2010, by the White House Council on Environmental Quality (CEQ), a "Green Innovation Award" was given to Lippiatt for her work on a software tool that measures the environmental performance of building materials and biologically based products.
The GreenGov Presidential Awards celebrate extraordinary achievement in the pursuit of President Obama's Executive Order on Federal Leadership in Environmental, Energy and Economic Performance (Executive Order 13514). The eight winners were selected from more than 300 nominations. CEQ solicited award nominations and, along with a panel of judges, reviewed the nominations and recommended the 2010 award recipients to the President.
Lippiatt was recognized for developing the Building for Environmental and Economic Sustainability (BEES) Program. This software tool measures environmental performance in building materials by making a life cycle assessment from manufacturing through product use, maintenance, and disposal. According to the White House award citation, "Her vision has resulted in a practical tool for sustainability performance measurement that is unbiased, science-based, quantitative, transparent, and comprehensive."