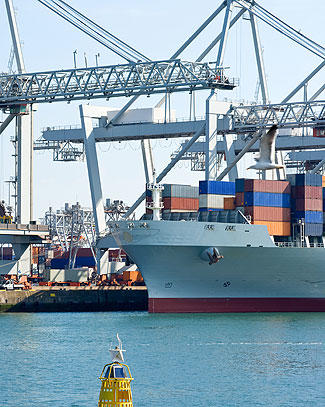 For the past four years, the National Institute of Standards and Technology's Manufacturing Extension Partnership (MEP), along with the U.S. Commercial Service, and local MEP and export assistance centers, has been working with U.S. manufacturers to increase their exports. So far, MEP has completed 28 ExporTech projects in 18 states with a total of 230 companies participating.
Now, MEP has begun to offer other versions of their training program, including condensed and industry- and market-specific models. MEP has also begun to sponsor ExporTechs in target countries so attendees have access to local resources. One is planned for Ireland during the spring of 2011.
"All of these different models really have helped us to provide more specific, tailored research for each of the participating companies," says Kari Reidy, MEP ExporTech program manager.
Wilco Machine & Fab, an Oklahoma-based energy industry equipment manufacturer, is one successful graduate of ExporTech. After taking the export market training program offered by NIST MEP, Wilco expanded their export business from 8 percent of revenues in 2008 to 51 percent by mid-2009.
Speaking at the 2010 MEP National Conference, Commerce Secretary Gary Locke said that less than 1 percent of U.S. companies are engaged in export, and of the U.S. companies that do export, 58 percent export to only one country.
"Just one additional country, and we will substantially increase the goods that we sell," Locke said. "And again, the more that we sell, the more we make, the more revenues for the companies and ultimately more employment for the people of America."
ExporTech's three days of intensive training typically are spread over three months and draw six to eight senior-level executives from various manufacturing companies. The first day of training is dedicated to a discussion of what makes a successful exporter and identifying the challenges facing the attending companies. Day two delves more deeply into the mechanics of exporting, including financing and logistics. By day three, the participating companies have developed a growth plan, which they present to a panel of experts for feedback.
"ExporTech provided the opportunity to learn how international business works, from infrastructure to shipping, legal to logistics, strategy and country knowledge," says Conrad Karbowniczak, vice president of sales and marketing at D.W. Haber & Son, a fourth-generation family owned company from New York City that manufacturers hollowware (serving vessels, e.g.) for the hotel and banquet industry.
Before attending ExporTech, D.W. Haber & Son's business only realized 2 to 3 percent of sales from exports. After ExporTech, the company decided to take the economic downturn as an opportunity to reinvest in their business. While their sales were down in 2009, they did markedly better than their competition. They also found themselves much better positioned to capitalize on the recovery by doubling their exports. "Without the class, it would have taken me an incredibly long time to learn and find all the critical information. In the process, it gave me an opportunity to take a more detailed look into the business and develop a plan for moving forward," says Karbowniczak.
To learn more about ExporTech and find contact information for MEP affiliates in all 50 states and Puerto Rico, go to http://www.nist.gov/mep. MEP also offers an accelerated 2-day version of the course for companies that need a quick lesson in exporting.