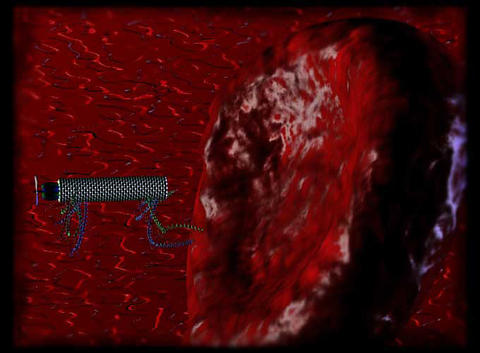 If you love soccer but don't want to wait until the next World Cup in 2010 to satisfy your appetite for the most popular game on Earth, the National Institute of Standards and Technology (NIST) has the answer—though the nourishment comes in very small bites.
Nanosoccer—the Lilliputian competition where computer-driven "nanobots" the size of dust mites challenge one another on fields no bigger than a grain of rice—will celebrate its first birthday this summer, and NIST is marking the anniversary with a new NIST and Nanosoccer Web site. Highlighting the site is a link to the recently produced video, "Bend It Like NIST: Tiny Soccer Players Pave Way for Microbots," a 2-minute program that demonstrates how nanosoccer "road tests" agility, maneuverability, response to computer control and the ability to move objects—all skills that future miniaturized robot workers will need for tasks such as microsurgery within the human body or the manufacturing of atom-sized components for microscopic electronic devices.
The soccer nanobots are operated by remote control under an optical microscope. They move in response to changing magnetic fields or electrical signals transmitted across the microchip arena. Although the bots are a few tens of micrometers to a few hundred micrometers long, they are considered "nanoscale" because their masses range from a few nanograms to a few hundred nanograms. They are manufactured from materials such as aluminum, nickel, gold, silicon and chromium.
The new "NIST and Nanosoccer" Web site features summaries of the first two events in nanosoccer history: the July 2007 debut demonstration and competition at the international RoboCup in Atlanta, Ga., and the just-concluded demonstration at the RoboCup U.S. Open in Pittsburgh, Pa.
NIST jointly organized these "Nanogram League" events with RoboCup, an international organization dedicated to fostering innovations and advances in artificial intelligence and intelligent robotics by using the game of soccer as a testing ground. NIST's goal in coordinating competitions between the world's smallest robots is to show the feasibility and accessibility of technologies for fabricating MicroElectroMechanical Systems (MEMS), tiny mechanical devices built onto semiconductor chips and measured in micrometers (millionth of a meter).
Next up on the nanosoccer schedule is the first official Nanogram League competition for soccer nanobots at the July 2009 international RoboCup event in Austria. Academic institutions interested in organizing nanosoccer teams for the contest should contact Craig McGray, craig.mcgray [at] nist.gov, (301) 975-4110.