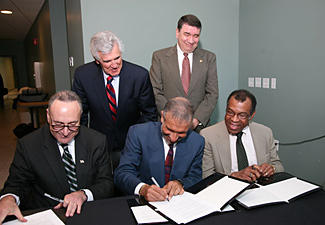 Albany, N.Y. – The Commerce Department's National Institute of Standards and Technology (NIST) signed a Memorandum of Understanding (MOU) today with the College of Nanoscale Science and Engineering (CNSE) of the University at Albany-State University of New York. NIST Deputy Director James M. Turner, CNSE Vice President and Chief Administrative Officer Alain E. Kaloyeros and Senator Charles E. Schumer (D-N.Y.) participated in an Albany signing ceremony hosted by Senator Schumer. The event was held at CNSE's Albany NanoTech Complex, a $4.2 billion, 450,000 square-foot facility which houses more than 2,000 employees including many from the semiconductor industry.
As a result of the MOU, NIST and CNSE will establish policies and general procedures for cooperating and coordinating efforts in areas of common interest, including the science and technology of measuring materials at the nanometer scale, as well as creating new standards for nanomanufacturing. Developing state-of-the-art nanoscale measurement tools and standards is necessary for creating ever-smaller computer chips that perform tasks more quickly and reduce power consumption for a wide range of electronic devices from cell phones to desktop computers.
"Our shared aim is to develop the measurement science infrastructure that is absolutely essential to U.S. innovation and economic competitiveness in nanotechnology," said NIST Deputy Director Turner. "NIST is eager to forge a productive collaboration that leverages this impressive collection of intellectual and physical resources."
The MOU follows the creation earlier this year of the New York Center for National Competitiveness in Nanoscale Characterization (NC3) at CNSE. Funding for the center was provided under NIST's FY 2008 appropriation. By working to advance innovations in nanoscale measurement science, NC3 strives to strengthen the relationships between nanotech R&D;, manufacturing and commercialization.
In addition, the Institute for Nanoelectronics Discovery and Exploration (INDEX) headquartered at CNSE is a regional research center that is part of the NIST-supported Nanoelectronics Research Initiative (NRI), a public-private partnership aiming to develop electronic devices that exploit the unique properties of materials at the nanometer scale. In addition to contributing $2.76 million to the nationwide NRI effort thus far, NIST is making available its expertise in nanoscale measurement to INDEX and the other NRI research centers across the United States.
Researchers at NIST's Center for Nanoscale Science and Technology (CNST) will lead the scientific collaboration efforts with CNSE. With world-class staff and state-of-the-art facilities such as the Nanofab, a multi-million dollar suite of state-of-the-art nanofabrication and nanomeasurement equipment, CNST provides science and industry with the necessary measurement methods, standards and technology to facilitate the development and productive use of nanotechnology from discovery to production.