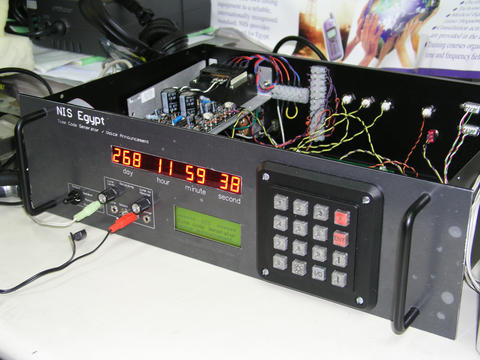 Millions of satellite television and radio users in North Africa and the Middle East can now see and hear the precise time of day, thanks to technical assistance and a custom-built time signal generator from the National Institute of Standards and Technology (NIST).
The new system, which began broadcasting time data and audio reports this year, is the most widely available source of atomic time in the region. Previously, smaller numbers of users have had access to an automated computer time service (also designed by NIST) and the Global Positioning System, a military satellite service that provides time signals to civilian users with GPS receivers. Now, users of commercially available satellite dishes and receivers can get atomic time by decoding a standard time code format or listening to the audio broadcast.
NIST provided assistance to the National Institute for Standards in Egypt, which negotiated for a special channel for the new service from the Egyptian Satellite Company (NILESAT). NIST built the time code generator, about the size of a briefcase, which produces two signals, a standard time code and an audible seconds pulse and top-of-the-minute voice announcement in Arabic. The time code includes Daylight Saving Time corrections as well as leap year and leap second warnings. NIST and Egyptian standards officials recorded the voices ("At the sound of the tone, the time will be [hour and minute] Egyptian Local Time.").
The NIST device, installed at a satellite uplink facility in 6th of October City, Egypt, synchronizes its reports with a cesium atomic clock at the same location that is itself synchronized with Coordinated Universal Time to provide traceability to international time standards. According to John Lowe of NIST, Egyptian officials also plan to use the new service to mount time displays in public places. The project was funded by a grant from the U.S.-Egypt Joint Science and Technology Program.
---
J. Lowe, J. Heidecker, M.A. Swidan, A. Hisham and S. Samuel. Standard time and frequency dissemination via Egyptian digital satellite. Presented at 39th Annual Precise Time and Time Interval Systems and Applications Meeting, Long Beach, Calif., Nov. 26-29, 2007.