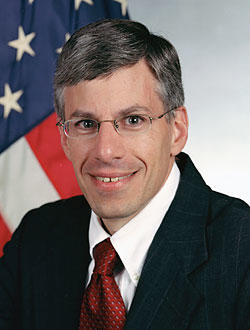 WASHINGTON, D.C. – The U.S. Senate today confirmed William Alan Jeffrey, a veteran manager of federal science and technology development, as the 13th director of the U.S. Commerce Department's National Institute of Standards and Technology (NIST).
Jeffrey, 45, was nominated by President Bush on May 25, 2005, to succeed Arden Bement, who was appointed director of the National Science Foundation in November of last year. NIST Deputy Director Hratch Semerjian has served as acting director in the interim.
"I'm very pleased to welcome Bill Jeffrey to the Department of Commerce team," said Commerce Secretary Carlos Gutierrez. "He brings a strong background in science and technology policy and the practicalities of research management to one of our nation's finest research laboratories and an institution whose work affects almost every aspect of our daily lives."
Jeffrey has been involved in federal science and technology programs and policy since 1988. Previous to his appointment as director of NIST he served as senior director for homeland and national security and the assistant director for space and aeronautics at the Office of Science and Technology Policy (OSTP) within the Executive Office of the President. Prior to that he was the deputy director for the Advanced Technology Office and chief scientist for the Tactical Technology Office with the Defense Advanced Research Projects Agency (DARPA). While at DARPA, Jeffrey developed research programs in communications, computer network security, novel sensor development and space operations.
Prior to joining DARPA, Jeffrey was the assistant deputy for technology at the Defense Airborne Reconnaissance Office, where he supervised sensor development for the Predator and Global Hawk Unmanned Aerial Vehicles and the development of common standards that allow for cross-service and cross-agency transfer of imagery and intelligence products. Jeffrey also spent several years working at the Institute for Defense Analyses performing technical analyses in support of the Department of Defense. Jeffrey received his Ph.D. in astronomy from Harvard University and his B.Sc. in physics from the Massachusetts Institute of Technology. He resides in Herndon, Va.
As an agency of the U.S. Department of Commerce's Technology Administration, NIST develops and promotes measurement, standards and technology to enhance productivity, facilitate trade and improve the quality of life.