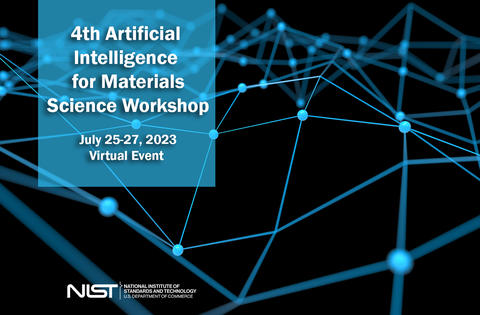 As a part of the JARVIS workshop series, NIST is organizing the 4th Artificial Intelligence for Materials Science (AIMS) workshop that will be held virtually, on July 25 - 27, 2023. The Materials Genome Initiative (MGI) promises to expedite materials discovery through the use of data from high-throughput computation and high-throughput experiments. The application of artificial-intelligence (AI) tools such as machine-learning, deep-learning and various optimization techniques is critical to achieving such a goal.
Some of the key activity areas in applying AI techniques to materials are: developing well-curated and diverse datasets, choosing effective representations for materials, inverse materials design, integrating autonomous experiments and theory, and choosing appropriate algorithms/work-flows. The inclusion of physics-based models into an AI framework is also a major research direction.  Lastly, uncertainty quantification in AI-based predictions for material properties and issues related to building infrastructure for disseminating AI knowledge are of immense importance for making AI-based investigation of materials successful. This workshop is intended to cover all the above-mentioned challenges. To make the workshop as effective as possible, we plan to focus mainly but not exclusively on inorganic solid-state materials.
Some of the topics addressed in this workshop will include:
Datasets and tools for employing AI for materials

Integrating experiments with AI techniques

Graph neural network

Comparison of AI techniques for materials

Challenges applying AI to materials

Uncertainty quantification and building trust in AI predictions

Generative modeling

Using AI to develop classical force-fields

Natural language processing

AI-guided autonomous experimentation
Call for Abstracts 
If registered participants are interested in presenting a short (~12 minute) lightning talk, please send name, affiliation, title, and abstract to daniel.wines [at] nist.gov (), no later than 6/2/2023.
Confirmed Speakers
Maxim A Ziatdinov (Oak Ridge National Lab)

Jed Pitera (IBM)

Brenda Rubenstein (Brown)

Rachel Kurchin (Carnegie Mellon)

Arun Kumar Mannodi Kanakkithodi (Purdue)

Jason Hattrick Simpers (Toronto)

Zi-Kui Liu (Penn State)

Addis Fuhr (Oak Ridge National Lab)

Keqiang Yan (TAMU)

Victor Fung (Georgia Tech)

Rafael Gomez-Bombarelli (MIT)

Erik Thiede (Flatiron Institute)

Vidushi Sharma (IBM)

Taylor D. Sparks (Utah)

Tonio Buonassisi (MIT)

Connor W. Coley (MIT)

Andrew White (Rochester)

Joseph Montoya (Toyota Research Institute)
Organizing Committee
Daniel Wines

Kamal Choudhary

Francesca Tavazza

Brian DeCost

Austin McDannald

Kevin Garrity

Howie Joress