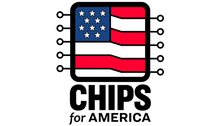 You're invited to join Department of Commerce's CHIPS Program Office at 4pm on Tuesday, February 28, for a live presentation on the first CHIPS for America funding opportunity.
Building on Secretary Raimondo's remarks delivered last Thursday at Georgetown University's School of Foreign Service – which outlined how the CHIPS Act presents an opportunity to solidify America's permanent global leadership and protect our long-term national security – this webinar will review in detail the first CHIPS for America notice of funding opportunity for commercial leading-edge, current-, and mature-node fabrication facilities.
While CHIPS for America will release additional funding announcements later in the year, potential applicants are invited to file a Statement of Interest right away, so we encourage all potential applicants to attend this webinar. The presentation will include a Q&A session with questions submitted in advance or live through the chat.