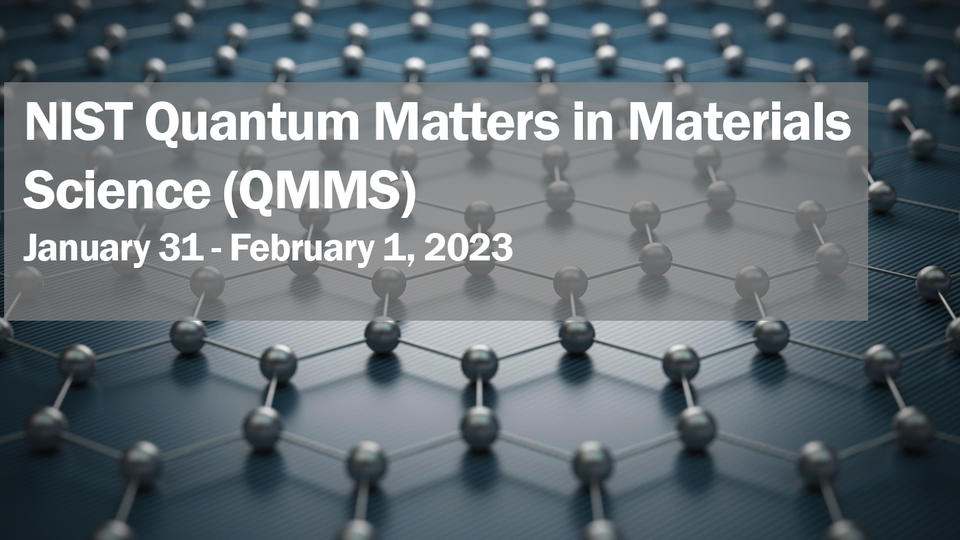 As part of the JARVIS workshops series, on Jan 31-Feb 1, 2023, NIST is organizing the 2nd QMMS workshop. The workshop will be focused on quantum phenomena in emerging materials for next generation devices. All materials are inherently quantum in nature, but only when quantum phenomena manifest at the classical scale can we hope to leverage their properties for applications. The Materials Genome Initiative represents a compelling approach to investigate quantum materials and accelerate their development for quantum information systems (QIS) or other practical industrial applications. In order for this approach to be successful, it is essential to have good synergy between experimental and computational work. This workshop aims at streamlining this effort. To make the workshop as effective as possible, we plan to mainly focus on 2D and 3D inorganic superconductor, topological, magnetic and electronic materials, but we are not limited to those systems.

Some of the key topics to be addressed by both theory and experiments are:
1) discovery and characterization of new superconductors/topological, magnetic and semiconducting materials,
2) optimization of known quantum materials,
3) investigation of defect induced behavior and transitions,
4) Electronics, spintronics, and quantum memory applications,
5) challenges in applying QIS technologies at industrial scale,
6) Higher order many-body computational methods to treat quantum materials.
Call for Abstracts
If registered participants are interested in presenting a short (~15 minute) lightning talk, please send name, affiliation, title, and abstract to daniel.wines [at] nist.gov no later than 12/2/2022.
Confirmed invited speakers
Paul Kent (Oak Ridge National Lab)
Nicola Marzari (EPFL)
Karin Rabe (Rutgers)
Panchapakesan Ganesh (Oak Ridge National Lab)
Can Ataca (University of Maryland Baltimore County)
Marco Bernardi (Caltech)
Prineha Narang (UCLA)
Venkatraman Gopalan (Penn State)
Judy Cha (Cornell)
Patrick Vora (George Mason)
Sobhit Singh (Rochester)
Barbara Jones (IBM)
Giulia Galli (University of Chicago)
Diana Qiu (Yale)