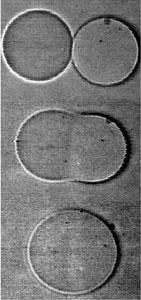 The National Institute of Standards and Technology will host a virtual-only workshop to discuss current state-of-the-art for basic liposome metrology and discuss liposome reference material development.
This workshop will host participants to discuss recent advances in the measurement of liposome physical-chemical properties including stability as well as ongoing efforts to develop a liposome-based reference material. The workshop will take place on September 21 and 22, 2022 from 10 AM EDT to 1 PM EDT. The workshop will feature presentations by speakers from government, industry, and academia, as well as open discussion breakout sessions focused on several topic areas.
Topics to be covered at this workshop include:
Liposome physical-chemical metrology

Optimal liposome reference material properties

Instrumental characterization options and challenges

Liposome reference material use cases and possible applications
This workshop will not discuss, nor will it address biological attributes such as potency, drug loading efficiency, in vitro or in vivo toxicity, etc.
NIST invites all interested stakeholders to register for this upcoming workshop to participate and share their views on liposome metrology and reference material development.
The deadline for registration is 5 PM EDT on September 14, 2022.