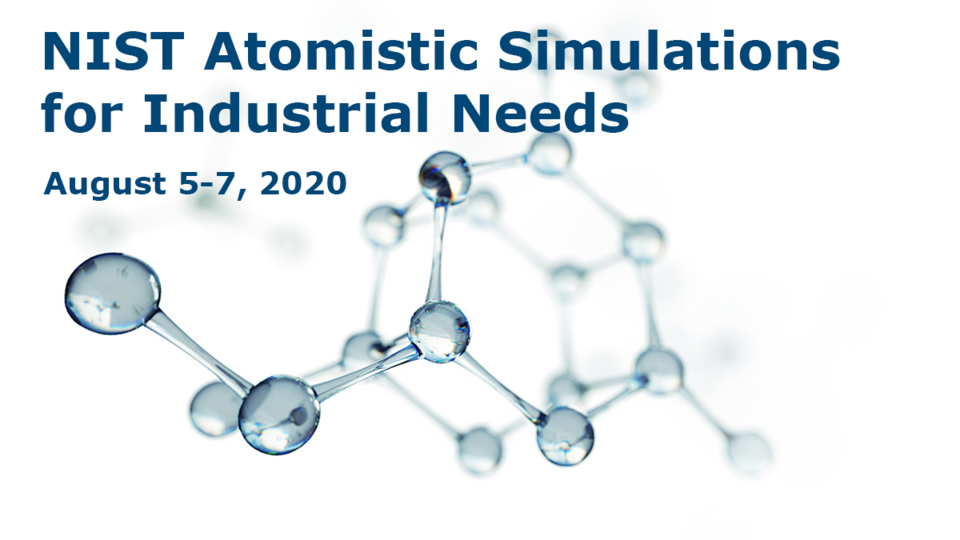 Atomistic simulations are increasingly being used as a tool to understand and predict properties of materials. The purpose of this workshop is to facilitate interactions between researchers in industry, academia, and government on issues related to the development and use of interatomic interaction potentials. Such issues include accuracy, standardization, evaluation methods, and exchange of data an information. Participants in this workshop should include representatives from academia, national labs and the automotive, aerospace, materials design and software, and advanced materials industries. This year the workshop will be fully remote. The first two days (August 5 and 6) will consist of 30-minute presentations and discussions from researchers in the community. A virtual poster session will be held on August 5th. The third day (August 7) will feature hour long workshops and demos for various community tools.
Organizing Committee
Lucas Hale, NIST, Material Measurement Laboratory

James Hickman, NIST, Material Measurement Laboratory
Ryan Elliott, University of Minnesota and OpenKIM project, Aerospace Engineering Mechanics

Daniel Karls, University of Minnesota and OpenKIM project

Ryan Thomas, Honeywell
Virtual Poster session & links
August 05, 2020
Session I:  (3:00 pm - 3:30 pm EDT)
Session II: (3:30 pm - 4:00 pm EDT)
setup for Hands-On Demonstrations
August 07, 2020
openKIM
See here to install a virtual machine (VM) for KIM.
Atomman/iprPy
Demonstration Notebooks can be found on github: https://github.com/lmhale99/iprPy-demos. People can either view the notebooks from the github site or download/clone the repository and run the notebooks for themselves (requires python and a LAMMPS executable.)
Pyiron
Everybody can follow along from the presentation, and all content is at https://github.com/jan-janssen/pyiron-nist-workshop
Atomistictools
No setup
nanoHUB
See here  for more details.  All you need to do is get a nanoHUB account (free).
SEAMM   
No setup: pre-release demonstration
Pyfit-FF
No setup required: code functionality discussion and explanatory demonstration