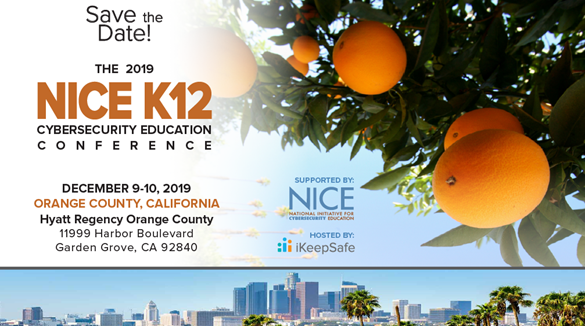 NICE K12 CYBERSECURITY EDUCATION CONFERENCE
SAVE THE DATE: DECEMBER 9-10, 2019
Garden Grove, California 
The NICE K12 Cybersecurity Education Conference brings together K12 educators and those interested in K12 cybersecurity education for today's youth. This annual, two-day event helps attendees learn about increasing cybersecurity career awareness, integrating cybersecurity into educational portfolios, exploring innovative educational approaches, and designing academic and career pathways that are aligned to the NICE Cybersecurity Workforce Framework.
This event is supported by the National Initiative for Cybersecurity Education (NICE), a program of the National Institute of Standards and Technology in the U.S. Department of Commerce, under financial assistance award #60NANB16D302. Learn more at k12cybersecurityconference.org.