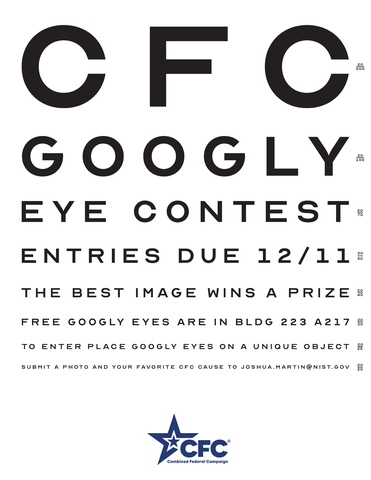 Dear NIST and DOC Colleagues,
Announcing the CFC Googly Eye Contest! Entries are due to joshua.martin [at] nist.gov (subject: Googly%20Eyes) (Joshua Martin) by next Wednesday, December 11, 2019. Free googly eyes are available in Gaithersburg Building 223 A217. All kinds and sizes! Available while supplies last. Fries not included. One set of really big googly eyes (18 cm) can be BORROWED: they are community googlies. Please use tape for these large ones and return them to BLDG 223 A217 so others can use the pair.
TO ENTER: simply place googly eyes on a unique object and take a photo. Be creative! But keep it PG/PC. See examples below. Submit your photo AND your favorite charity cause to joshua.martin [at] nist.gov. Help bring attention to your favorite cause or charity. The keyworkers will vote on the funniest/most unique image for a highly coveted secret prize. And it can be yours! All are welcome to enter.