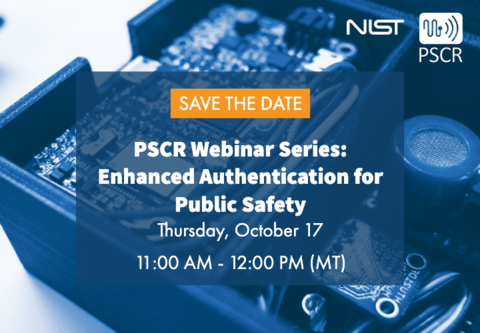 The Public Safety Communications Research (PSCR) Division of NIST serves to develop and enhance security solutions to current and future public safety communications. Security, including cybersecurity, is an area which will affect every aspect of public safety communications.
Join us on Thursday, October 17, 2019  for an inside look at impressive research updates from NIST and PSCR's cybersecurity teams in recognition of National Cybersecurity Awareness Month. During this webinar, a panel of cybersecurity experts will cover: an overview of PSCR's security portfolio, single sign-on (SSO), PSCR's SIM Card Challenge, and possibilities in biometric authentication. There will be time for Q&A.
Read about the panelists below, and watch the webinar recording!
---

John Beltz, NIST PSCR
John is the cybersecurity lead at Public Safety Communications (PSCR) Division at NIST, where the research portfolio he manages includes critical topics such as: identity management, mobile device and application security, and LTE/5G security. John also manages the security and operations of the PSCR research lab to include the diverse demonstration network used to research cutting edge technologies for public safety. He has 20 years of experience as a cybersecurity professional where he has served in many important roles including: security specialist in the NIST CIO, senior consultant with Booz Allen Hamilton, and Staff Sergeant in the US Army Signal Corps. John's education includes a master's degree at Johns Hopkins University majoring in Information and Telecommunications Systems and multiple technical security certifications.

Bill Fisher, NCCoE
Bill is a security engineer at the National Cybersecurity Center of Excellence (NCCoE). In this role, he is responsible for leading a team of engineers that work collaboratively with industry partners to address cybersecurity business challenges facing the nation. He leads the center's Attribute Based Access Control (ABAC) project, Mobile Application Single Sign On (SSO) for the Public Safety and First Responder Sector, and is part of the ITL Cybersecurity for IoT program. The NCCoE is a collaborative hub where business, government agencies, and academia work together to address road cybersecurity problems of national importance. As part of the National Institute of Standards and Technology, the NCCoE uses standards, best practices, and commercially available secure technologies to demonstrate how cybersecurity can be applied in the real world. Ultimately, the NCCoE helps promote widespread adoption of cybersecurity technologies by developing example solutions to cybersecurity problems that affect whole sectors of industry, or even multiple sectors. Prior to his work at the NCCoE, Mr. Fisher was a program security advisor for the System High Corporation in support of the Network Security Deployment division at the Department of Homeland Security. He holds a bachelor's degree in business administration from American University and a master's degree in cybersecurity from Johns Hopkins University.
Jeff Cichonski, NIST ITL
Jeff Cichonski is an Information Technology Specialist working with a broad array of technologies at the National Institute of Technology (NIST); working in the Applied Cybersecurity Division under the umbrella of the Information Technology Laboratory. He is an active member of 3GPP's SA3 working group, the standards group responsible for specifying cellular security architectures and has been engaged in the development of 5G security. Jeff also performs applied cybersecurity research focusing on cybersecurity for industrial control systems security, next generation credential research, and LTE network security, with a specific interest in security for public safety cellular implementations. He has a Bachelor of Science in Information Science and Technology from the Pennsylvania State University. 
Mike Bartock, NIST ITL
Mike Bartock is an IT specialist in the Computer Security Division in the Information Technology Laboratory at the National Institute of Standards and Technology (NIST). He performs applied cybersecurity research specializing in hardware roots of trust to enforce policy-based cloud workload migration, LTE backhaul protection, and derived PIV credentials. His work focuses on collaborating with industry partners to build and implement proof of concept reference architectures. He has experience in managing virtualized environment, cloud computing, software development, cryptography, derived PIV credentials, and LTE security for public safety networks.