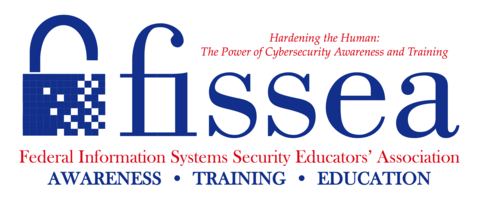 Purpose:
The Federal Information Systems Security Educators' Association (FISSEA) is a forum for the exchange of information about security awareness, training, education, and certification responsibilities. The 31st Annual Conference will be held on March 14-15, 2018 at the National Institute of Standards and Technology (NIST) in Gaithersburg, Maryland. The Conference theme is Hardening the Human: The Power of Cybersecurity Awareness and Training.
FISSEA attendees will gain insight into (but are not limited to):
Driving cultural change through innovative strategies in awareness, training, and education;
Strengthening your workforce's security skills through training and how that improves the risk posture of the organization;
Developing awareness programs based on best practices, that are compliant, and promote safe security behaviors;
Creating a cybersecurity training and education baseline that establishes minimum practices to reduce vulnerabilities.
Adapting training to address a multi-generational workforce and improving learning outcomes;
Creating effective, meaningful, and impactful security training using available resources.
Description:
With the continued increase of threats to our networking environments, cybersecurity awareness, education, and training are critical to building and maintaining safe environments. Protecting information assets is everyone's responsibility not just cybersecurity/IT specialists and those with privileged access. We live in an ever-growing digital and communications centric world. Being a part of the "Internet of Things" is a way of life, making understanding of risk and mitigation critical to providing effective security. Each one of us is a key contributor to ensuring the security of our digital economy and preventing damage from malicious or unintentional attacks. The FISSEA conference brings together visionaries, experts, and novices from industry, academia, and government to discuss and share leading practices on improving Cybersecurity through Awareness and Training. This two-day conference provides:
Recognition of those who are building innovative and effective security programs;
Presentations showcasing best practices and innovative ideas; and
The opportunity to connect, learn, share, and network with other security professionals and thought leaders in industry, academia, and government.