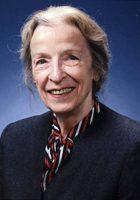 A symposium is being organized in honor of our friend and colleague, Katharine Blodgett Gebbie (1932-2016), to take place in the Green Auditorium at NIST-Gaithersburg on May 17-18, 2017. The symposium will feature two days of outstanding science in fields such as atomic clocks and sensors, quantum optics, Bose-Einstein Condensates, and cold atoms that were nurtured by Katharine's leadership. There is no cost to attend the symposium. Light refreshments will be available.
After the end of Wednesday's talks we will have a reception at NIST. Terry Quinn, the Director Emeritus of the International Bureau of Weights and Measures (BIPM), will share some of his memories of Katharine at that time. To reserve a space to attend the reception please be sure to indicate your interest on the registration page.
If Katharine touched your life, or if you would like to learn about more the scientific legacy of this remarkable scientist who led the NIST Physics Lab to four Nobel Prizes, you may register by clicking on the Register Here usa-button on the right.