The Annual Department of Energy Laser Safety Officer Workshop is for individuals with laser safety responsibility and interest in a research, industrial or academic setting who want to update and expand their laser safety knowledge. It features presentations on current laser applications and associated laser safety issues and solutions. Anyone interested in laser safety will not want to miss this unique workshop! The workshop also serves as the official annual meeting of the U.S. Department of Energy Laser Safety Working Group (DOE - EFCOG).
The workshop is a 2.5-day meeting and will include bo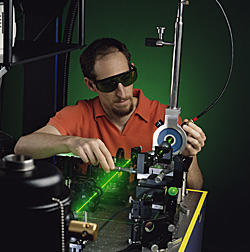 th invited and contributed talks. There will be a vendor exhibit and tours of NIST facilities on the afternoon of September 11th. A reception dinner will be held on the evening of September 11th for attendees at the National Center for Atmospheric Research. Guests of attendees may attend the reception for an additional fee.
Certification Maintenance points will be available. The Board of Laser Safety will offer a Certified Laser Safety Officer/ Certified Medical Laser Safety Officer (CLSO/CMLSO) exam on Sept. 9, just prior to the Workshop.
Workshop Program and Abstract Submission:
Program details will be available soon. To contribute an abstract proposal for a contributed talk, please see Abstract Submissions.