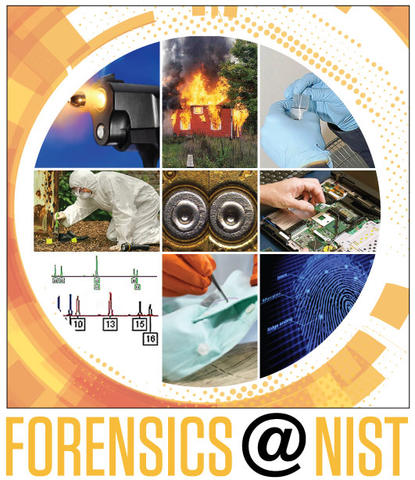 The
Measurement Science and Standards in Forensic Handwriting Analysis Conference
took place on
June 4-5, 2013
at the National Institute of Standards and Technology (NIST) Campus in Gaithersburg, Maryland
. The purpose of this free conference was to enhance the current state of forensic handwriting analysis through the use of advancements in measurement science and the latest research investments in quantitative analysis capabilities. NIST's
Law Enforcement Standards Office (OLES)
organized this event in collaboration with the following organizations/agencies:
CONFERENCE POLL QUESTIONS and RESULTS
CONFERENCE FACILITATED DISCUSSION SUMMARY

The forensic science discipline of handwriting examination and analysis initially surfaced as evidence in courts around 1868, when a forged will was exposed in the case of Robinson v. Mandell. Over at least the last 150 years, many published scientific studies focused on the individuality and reproducibility of handwriting for use in a forensic setting. The discipline primarily relies upon a trained handwriting examiner assessing the similarities of known and unknown samples in order to generate a conclusion. After completing their examination, handwriting examiners typically draw one of nine possible conclusions regarding authorship or source: identification, strong probability, probable, indications, no conclusion, indications did not, probably did not, strong probability did not, or elimination.[1]  

Handwriting examination is a sub-set of the forensic science discipline of questioned documents. The Scientific Working Group for Forensic Document Examination (SWGDOC) notes on its website that "the forensic document examiner conducts scientific examinations, comparisons, and analyses of documents in order to: (1) establish genuineness or non-genuineness, or to reveal alterations, additions, or deletions, (2) identify or eliminate persons as the source of handwriting, (3) identify or eliminate the source of machine produced documents, typewriting, or other impression marks, or relative evidence, and (4) preserve and/or restore legibility." According to the American Board of Forensic Document Examiners' (ABFDE's) website, "Forensic document examiners (FDEs) help lawyers by examining and offering written opinions on a variety of disputed document problems including: wills, deeds, medical records, income tax records, time sheets, contracts, loan agreements, election petitions, checks, and anonymous letters."  
Research into developing useful quantitative measurement-based techniques that can be applied to handwriting analysis is ongoing. The goal is to apply such techniques to the routine analysis of handwriting by examiners.  
Objectives
Discuss the current state of handwriting examination techniques and limitations
Discuss research advancements supporting quantitative measurements in handwriting examinations
Develop a roadmap to incorporate quantitative measurement techniques in analysis procedures
Document the potential barriers to achieving the future state of quantitative analysis  
Attendees 
Conference presenters and attendees included forensic document examiners, researchers, measurement science experts, statisticians, and industry representatives. This conference was open and free to attend for all interested stakeholders; however, access to the NIST campus was restricted to registered attendees. The conference was webcast live, for free, to ensure maximum participation for interested stakeholders. Interested individuals were encouraged to attend the conference in order to interact with the presenters and contribute to the conference dialogue and roadmap discussion.  

Live Webcast Minimum Technical Requirements
The Webcast was streamed in medium bandwidth (350kbs), so viewers needed to have a constant connection during the webcast.
Hardware and operating system configurations
Windows XP (Internet Explorer or Firefox)
Windows Vista (Internet Explorer or Firefox)
Windows 7 (Internet Explorer or Firefox)
Apple Mac OS 10.5x (Firefox or Safari)
Ubuntu Linux (Firefox only)Media players
Media players
In order to access the event, you must have, at a miniumum, Flash Player 10.x installed on your computer.
Please visit: http://get2.adobe.com/flashplayer/ to download the Flash Player.
Internet browsers
In order to access the event, you must have either Microsoft Internet Explorer 6.0+ or Mozilla Firefox 3+ browser for Windows operating systems. For accessing events via Mac operating systems you must have Mozilla Firefox 3+ or Safari 4.x.
Planning Team 
This conference was designed by a small planning team consisting of representatives from the American Academy of Forensic Sciences -Questioned Document Section, American Board of Forensic Document Examiners (ABFDE), American Society of Questioned Document Examiners (ASQDE), Federal Bureau of Investigation (FBI) Laboratory, National Institute of Justice (NIJ), National Institute of Standards and Technology (NIST), and the Scientific Working Group for Forensic Document Examination (SWGDOC).
---
[1]
ASTM E1658-08 Standard Terminology for Expressing Conclusions of Forensic Document Examiners