Looking at information gathered from the recent census together with other Census Bureau surveys, estimates and projections illuminates demographic trends that affect the nation's economy and welfare in the near future. Important issues include population growth, the aging of the baby boomers, racial and ethnic diversity, immigration, language diversity, living arrangements, trends in household economics, and the status of women.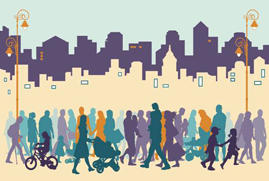 Anyone outside NIST wishing to attend must be sponsored by a NIST employee and receive a visitor badge.
For more information, contact Stephanie Shaw at 301-975-2667.
Colloquia are videotaped and available in the NIST Research Library.